Summer Solstice Sunny Dreamsicle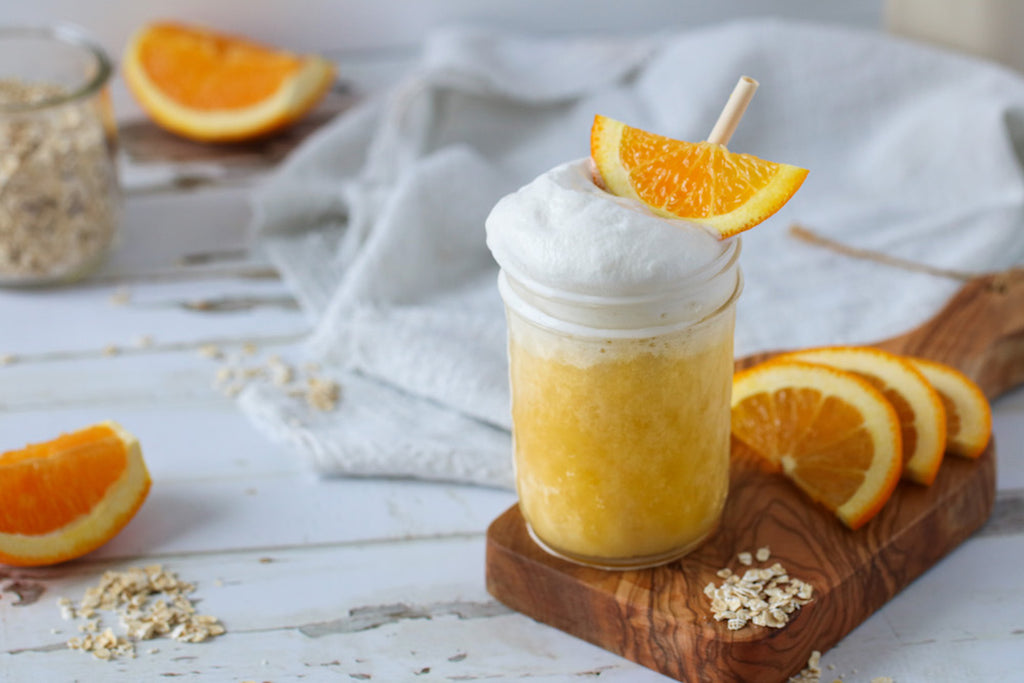 Prep Time
10M
Cook Time
0M
Servings
3 cups
 Remember those orange creamsicle pops from your summers as a kid? They were the BEST refresher after a long day playing outside. This Sunny Dreamsicle Mocktail drink recipe by Amanda at The Drink Alternative tastes exactly like the nostalgic childhood treat, and is so simple too!  And uses a lot cleaner, dairy free ingredients. All you need are four simple ingredients and a blender, and you're set to go for this delicious summer drink.
Like an Orange Dreamsicle, but dairy free and vegan :)

One of the best parts about this recipe is that it is 100% dairy free and vegan. You can still get your creamsicle fix! It's a delightful mocktail or dessert, using real clean ingredients. It also happens to have way less sugar than those childhood creamsicle pops. You could say this is a grownup version of a childhood favorite.
Let the Summer (Solstice) Begin!
The summer solstice happens once a year in the Northern Hemisphere when the Earth's North Pole is tilted closest to the sun. This day signifies the official beginning of summer and is the "longest" day of the year with the most sunlight hours! This Sunny Dreamsicle recipe is the perfect treat to sip outside in celebration while soaking in all that extra Vitamin D.
Coconut Whipped Cream
In Amanda's version, she uses a homemade coconut whipped cream to top the drink. Taking this dairy-free route avoids the unnecessary additives and unnatural sweeteners found in store-bought whipped cream. On top of that, the sweet hint of coconut flavor in this whipped cream pairs perfectly with this drink's summer-y creamsicle taste.
Check our Willa's recipes page for loads of delicious summer drinks, smoothies, mocktails and cocktails. 

Looking for another refreshing summer mocktail? check out this Lavender Blackberry Italian Cream Soda recipe!

Looking for summer iced coffee recipes? Check out Willa's Peanut Butter Iced Latte, Shakerato Latte, and Oat Milk Dalgona Coffee.

Love iced oat milk matcha lattes? Check out Willa's Perfect Iced Matcha How to, and Iced Salted Caramel Matcha Latte.

Seeking dairy free cocktails? Check out Willa's Oat Milk White Russian!

. 
Summer Solstice Sunny Dreamsicle
Ingredients
Coconut Whipped Cream:
14 oz can full-fat coconut milk or cream (chilled)
1 tbsp maple syrup, agave nectar, honey, or powdered sugar (adjust amount to your desired level of sweetness)
1 tsp vanilla extract
Sunny Dreamsicle
8 ozs of orange juice (frozen into ice cubes)
1/4 cup Willa's Oat Milk
1/4 teaspoon vanilla extract
Whipped cream of choice
Instructions
Coconut WhippedCream:
1. Chill coconut milk or cream overnight
2. In a chilled bowl, scoop the thickened coconut milk off the top of the can and into the bowl, and discard the liquid portion (or save for future use in smoothies, etc.!)
3. Whip coconut milk with a hand mixer for about one minute
4. Add vanilla extract and your sweetener of choice and whip for another minute until fluffy
5. Use immediately (leftovers can be covered and stored in the refrigerator for about a week)
Sunny Dreamsicle:
1. Chill coconut milk or cream overnight
2. In a chilled bowl, scoop the thickened coconut milk off the top of the can and into the bowl, and discard the liquid portion (or save for future use in smoothies, etc.!)
3. Whip coconut milk with a hand mixer for about one minute
4. Add vanilla extract and your sweetener of choice and whip for another minute until fluffy
5. Use immediately (leftovers can be covered and stored in the refrigerator for about a week)