Boozy Mocha Oat Milkshake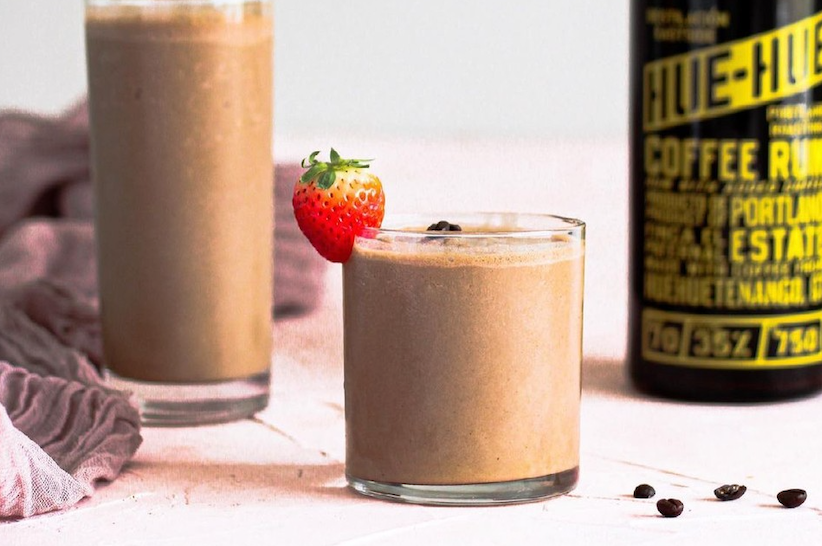 Prep Time
2M
Cook Time
0M
Servings
1 milkshake
It is that time of the year when we start breaking out the ice cream scoops and fun drink glasses. As the weather warms and the sun shines more, we start to crave colder treats and drinks. We find that milkshakes satisfy both of those cravings!  

And this recipe can easily be made...DAIRY FREE AND VEGAN!  
Completely plant-based 
Today we share with you no average milkshake… this is a vegan spiked mocha milkshake made with Willa's Oat Milk. Shared with us by the lovely Chelsea who creates some of the most mouthwatering vegan food! Her blog and Instagram are filled with easy and yummy recipes that you do not want to miss. You can even find more recipes that use our oat milk for additional inspiration! 
This milkshake really packs in a whole lot of fun with just a few ingredients. The base is made vegan by simply opting for a plant-based ice cream and plant-based oat milk. Then for taste and texture, add a little coffee rum, cocoa powder, and ice.   
Creamy without additives 
Creamy is the way a milkshake should be so we recommend Willa's Barista Oat Milk. Luckily, all of our oat milk versions are deliciously creamy so you can feel free to use any kind of Willa's. In fact, that is one of our favorite things about choosing oats for our plant-based milk, the creaminess is unmatched! Many plant-based milks use added ingredients to imitate a creamy consistency but at Willa's we keep things simple and honest. We never use canola oil (also known as rapeseed oil) which is highly processed yet commonly found in other oat milks. We could talk a lot about this… that is why we have an entire blog post explaining the oil in oat milk! Read it to learn more about the creaminess of oat milk and what ingredients to avoid. 
A not-so-boozy milkshake 
To make this a non-alcoholic mocha milkshake, you can replace the coffee rum with a mix of one teaspoon of instant coffee and two tablespoons of simple syrup. No judgment if you want to omit it altogether and opt for a plain chocolate or vanilla milkshake. Just have fun with whatever ingredients you have on hand! Now grab your blender, a tall glass, and straw and get ready to enjoy this rich and creamy treat. 
Read Chelsea's blog to find more vegan recipes like this one.  
Check out our other drink recipes like a Lemon Meringue Cocktail and Oat Milk White Russian  
You might also like our Chocolate Frozen Custard with Oat Milk! 
Do not forget to read our blog post about  why there is oil in some oat milks.  
Boozy Mocha Oat Milkshake
Ingredients
1.5 oz Coffee Rum (Chelsea used Hue-Hue Coffee Rum)
1 cup of vegan vanilla or chocolate ice cream
1 cup of Willa's Oat Milk
¼ cup of cocoa powder
½ cup of ice
Instructions
Place all ingredients into a blender and blend! Option to garnish with espresso beans or strawberries.