Chocolate Frozen Custard with Oat Milk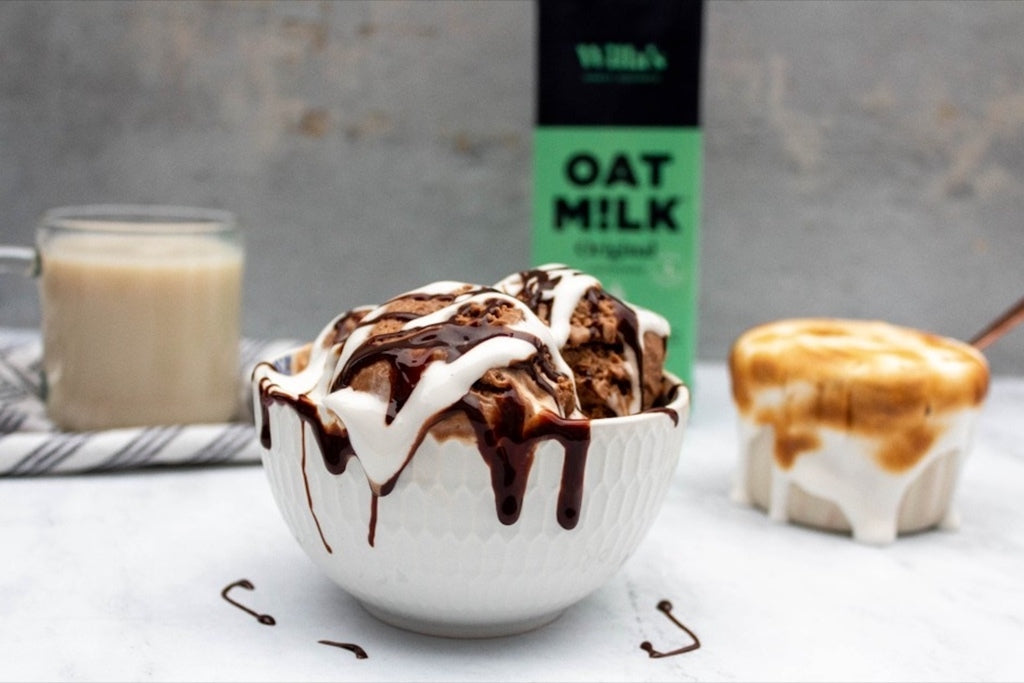 Prep Time
40M
Cook Time
0M
Servings
6 servings
Our mouths were watering when Greta Stolte shared these photos of her chocolate frozen custard made with Willa's Original Oat Milk. No matter what temperatures you are experiencing right now, you will surely enjoy this silky chocolate treat! 
What makes custard different?  
Frozen custard, ice cream, gelato… we love it all. Oat-based frozen desserts are a favorite in Willa's kitchen! Frozen custard has a special place in our hearts because it was invented in New York and is a Midwest favorite. It is very similar to ice cream but contains more egg yolks. This addition provides a smoother and creamier texture. When paired with the creaminess of Willa's Oat Milk this custard comes out to have a silky and soft texture. 
No ice cream machine? We got you covered…  
This recipe uses an ice cream machine to churn the custard mixture. But if you don't have one you can still enjoy this recipe! Simply follow the first five steps as normal. Then use a stand mixer with a whisk attachment or an electric hand-mixer to whip the chilled custard mixture. Place in the freezer in a container for a few hours until scoopable.  
If you are able to use an ice cream machine we recommend enjoying it right after churning or after just a couple hours in the freezer. If you decide to leave it in the freezer for longer, let it warm up a bit before scooping. 
Recipe adapted from https://theviewfromgreatisland.com/chocolate-frozen-custard-recipe/. 
Ice cream lovers check out our Pumpkin Oat Milk Ice Cream. 
For more dairy-free desserts try our Oatmeal Raisin Cookies , Sweet Potato Pie with Hazelnut Crust, and Fluffy Vanilla Cupcakes.  
For more Willa's Oat Milk recipes, head to our recipes page.
Chocolate Frozen Custard with Oat Milk
Ingredients
6 egg yolks
1/2 cup sugar
1/4 tsp salt
1/2 cup Dutch process cocoa powder, unsweetened
2 cups heavy cream
1 cup Willa's Oat Milk
1 tsp vanilla extract
Instructions
1. In a medium sized saucepan, add the yolks, sugar, salt, and cocoa powder. Whisk together to combine. Recommended to sift the cocoa powder beforehand but not required.
2. Set the saucepan over medium heat. Slowly whisk in the oat milk and cream. Continuing whisking constantly to combine everything until the mixture has thickened. Watch the mixture carefully, it should not come to a boil. The stove temperature can be lowered to medium-low to ensure nothing scorches.
3. When the mixture is thick enough to coat the back of a spoon it's done (approximately 12 minutes).
4. Immediately remove from heat and pour through a mesh sieve into a bowl. Stir in the vanilla extract.
5. Cover and chill until cold.
6. Churn the chilled mixture according to your ice cream machine's instructions. Approximately 20 minutes. Enjoy the custard right away, or transfer to a container and freeze for up to 4 hours. The frozen custard texture is best within 4 hours of making.