Sweet Potato Pie with Chocolate Hazelnut Crust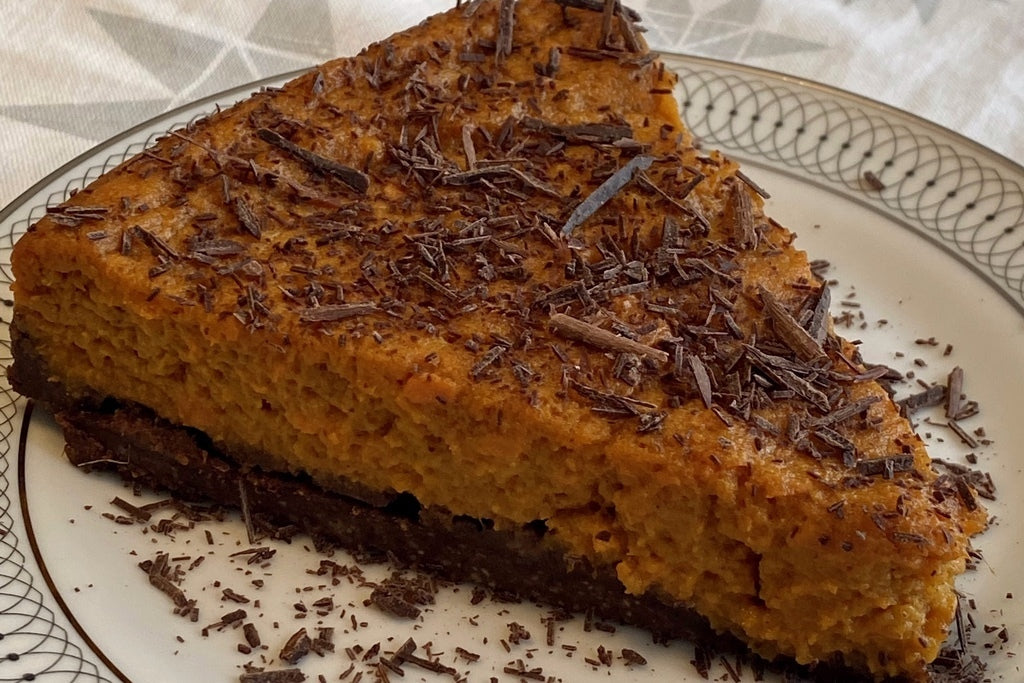 Prep Time
5M
Cook Time
2H
Servings
8 Servings
This recipe comes from Black Girl Baking: Wholesome Recipes Inspired by a Soulful Upbringing by Jerrelle Guy   
A treat that is well worth the effort
Nothing is quite like a slice of homemade pie! Sweet potatoes and pie may make you think of Thanksgiving but, trust us, this recipe is the perfect treat for any celebration. And it is perfect for the person who likes dessert that isn't too sweet. The hazelnut chocolate crust gives this a rich chocolatey vibe that works so amazingly well with sweet potato.
In our family, we like our sweet potato pies a little bit spicier so we added a teaspoon of pumpkin pie spice.
Dairy & gluten-free! 
If you are dairy or gluten-free you know the struggle of swapping ingredients in dessert recipes. One of the best parts of this recipe is it's already dairy-free and gluten-free! Which also makes it the perfect pie for sharing with family and friends. 
Quality ingredients 
We love Jerelle Guy's recipes, her blog and her book Black Girl Baking. She took a different spin on one of her family's recipes by swapping out the traditional pie crust with this life changing chocolate hazelnut crust.

She also uses oat milk which is ideal for baking since it is creamier than other plant-based milks. Willa's Barista Oat Milk has an exceptionally creamy texture because it contains organic, non-GMO sunflower oil. Unlike some plant-based milk brands, we steer clear of rapeseed oil and only use high-quality ingredients. To learn more, check out our blog about the oil in oat milk.  
Make sure to plan ahead so the pie can chill in the fridge for a few hours or overnight. We also recommend adding shaved dark chocolate for the perfect topping! 
For more recipes by Jerrelle Guy check out her blog www.chocolateforbasil.com 
For more dairy-free desserts, try our Pumpkin Pie or Coconut Buttercream Frosted Cupcakes  
Sweet Potato Pie with Chocolate Hazelnut Crust
Ingredients
Filling
4-5 medium sweet potatoes or yams
½ cup Willa's oat milk
3 eggs
½ cup packed brown sugar
2 tsp vanilla extract
Zest & juice of half an orange
1/2 tsp freshly ground nutmeg
1 tsp pumpkin pie spice (optional! Jerrell doesn't include it, but we liked it this way)
¼ tsp salt
Crust
2 cups of hazelnut meal flour
2 tbsp coconut oil or butter, divided
½ cup dairy-free semisweet chocolate chips
¼ tsp salt
Instructions
Preheat oven to 400ºF
Clean sweet potatoes and, using a fork or paring knife, poke holes into the potatoes to create air pockets. Place on a baking sheet and roast for 45 to 50 minutes to allow natural sugars to caramelize slowly.
Press down on them with an oven mitt to check doneness, they should cave.
Remove them from the oven and allow them to cool completely, then peel off and discard their skins.
Lower oven temperature to 300ºF and grab a 9-inch springform pan.
To make the crust, in a skillet, toast the hazelnut flour over low heat, stirring occasionally so it doesn't burn (4 to 5 minutes). Once the hazelnut flour begins to take on a popcorn scent, turn off the heat and add oil, chocolate chips, and salt. Continue stirring until chocolate is melted and completely incorporated.
Dump the hazelnut mixture into the bottom of a springform pan and press down evenly and 1 inch up the sides. Use the bottom of a cup if your hands are sensitive to the heat.
Continue with the filling by blending the milk, eggs, brown sugar, vanilla, orange juice and zest, nutmeg, pumpkin pie spice, salt, and peeled and cooled sweet potatoes in a blender or food processor until completely smooth. Pour the filling over the crust.
Place the pie in the oven on the upper middle rack and bake 45-50 minutes or until the center is set. Remove from the oven and allow to cool slightly and then refrigerate for a few hours or overnight.
(Optional) Serve with whipped cream and shaved dark chocolate on top