Ciara's Fluffy Dairy Free Vanilla Cupcakes made with Oat Milk (Gluten Free Optional)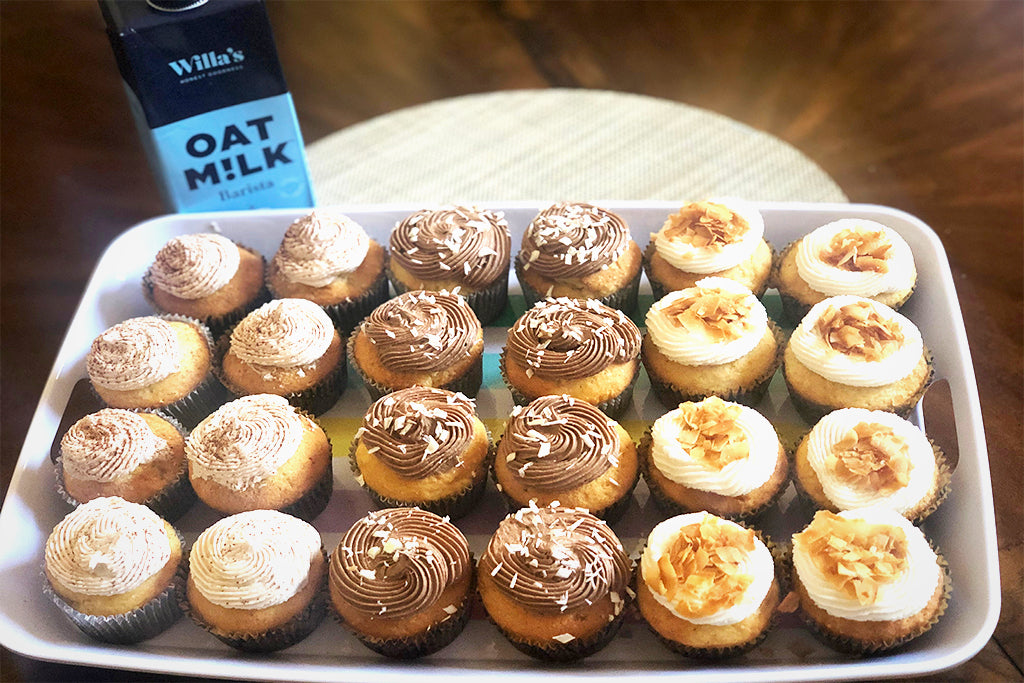 Prep Time
20M
Cook Time
20M
Servings
12-18 cupcakes
"A party without a cake is just a meeting." -
Julia Child
If you ask us, one of the best gifts you can possibly give someone, including yourself, is a homemade cake. It basically stands as the deliciously edible definition of celebration! It's also a bit frivolous in the best way possible. Not as hardy as bread. It's more work than most bars or cookies. It's just a wonderful way to say to someone let's have some fun and celebrate you, shall we?
Our cousin, Ciara, who also happens to be Willa's Great Granddaughter, seems to have inherited Grandma Willa's cake baking abilities. She's in middle school and has been baking for the past eight years. She frequently blows us away with her gluten free and dairy free creations! 
What makes a cake amazing? Fluffy, moist, cakey, flavorful, just enough sweetness and not dry. 
Would you ever expect a vegan gluten free cake to be amazing? Maybe not, but this recipe is delicious! 
Now, a cupcake isn't a cupcake without frosting! When you're dairy free, you sort of assume that you have to give up wonderful things like buttercream frosting, but that's not the case! Ciara has you covered with the creamiest and easiest to pipe dairy free, vegan buttercream frosting made with oat milk!
And she has not one but three variations: Chocolate Buttercream, Coconut Buttercream, and Maple Buttercream. All are vegan and dairy free!
Ciara's Fluffy Dairy Free Vanilla Cupcakes made with Oat Milk (Gluten Free Optional)
Ingredients
Cupcakes:
1 1/2 Cup All-Purpose Flour or Gluten Free Flour like Cup 4 Cup
1 tsp baking powder
1/8 tsp sea salt
1 Cup sugar
1/2 Cup softened butter or coconut oil
2 eggs (room temperature)
1 tsp real vanilla extract
1/8 tsp almond extract
2/3 Cup Willa's Oatmilk
8 Cups powdered sugar or coconut sugar
1 Cup cocoa powder
Frosting:
1 Cup softened butter or vegan butter
1/2 - 3/4 Cup Willa's Oat Milk
2 tsp vanilla extract
1/2 Cup coconut oil
1 Cup powdered sugar
1 Tbs Willa's Oatmilk
1/4 tsp vanilla extract
1/2 tsp coconut extract
Topping:
Toasted coconut (unsweetened)
1/2 Cup softened butter or coconut oil (for dairy-free option)
3/4 Cup powdered sugar
1 Tbs Willa's Oatmilk
1/4 Cup cocoa powder
1 tsp maple extract
1/4 tsp real vanilla extract
Instructions
1. Preheat the oven to 375 degrees.
2. In a medium bowl, gently combine flour, baking powder, and salt.
3. In another bowl, cream butter or coconut oil for 30-60 seconds.
4. Add sugar, a little at a time, and mix until well combined.
5. In a separate bowl, whisk eggs until you see bubbles.
6. Add eggs a little at a time and mix with a rubber spatula after each addition.
7. Add vanilla and almond extract and mix with a rubber spatula.
8. Then alternate adding dry ingredients and oat milk a little at a time while stirring.
9. Pour into a cupcake pan while filling to about 2/3 full for each cupcake.
10. Place pan on the middle oven rack and bake for 18-20 minutes or until golden brown.
11. Soften butter
12. Mix everything together, first on a low setting to blend, and then on high to whip it up
13. Cream the coconut oil for 30 - 60 seconds or until light and fluffy
14. Add powdered sugar and mix
15. Add Willa's Oatmilk and continue to mix
16. Add extracts and mix
17. Cream butter or coconut oil for 30 to 60 seconds or until light and fluffy
18. Add powdered sugar and mix
19. Add Willa's Oatmilk and continue to mix
20. Add cocoa powder and mix
21. Add extracts and mix