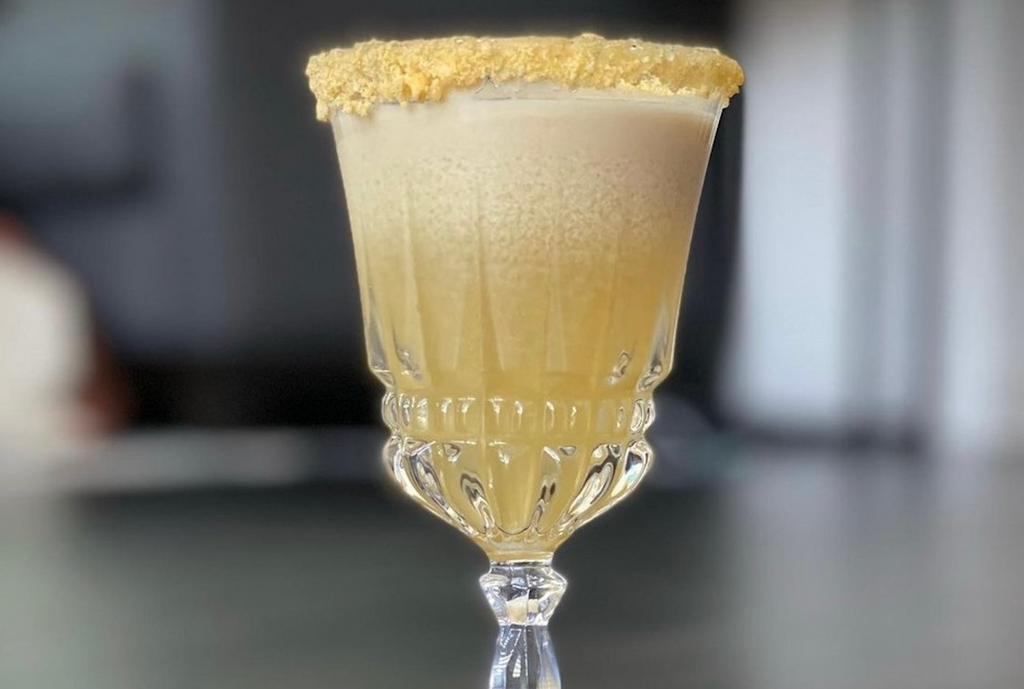 Prep Time
2M
Cook Time
0M
Servings
1 cocktail
A delicious twist on lemon meringue pie, this drink is a refreshing treat in a glass. A blend of sweet and tart all balanced by the creaminess of Willa's Oat Milk. 
Making a perfect meringue can be tricky for even the most experienced of bakers. And making one without eggs or dairy can be doubly difficult. This recipe, however, is easier than pie! And you get the whipped effect and taste without the eggs, dairy or stress looking for the perfect 'meringue peak' in your mixer!
Creamy cocktail without the dairy or eggs
Oat milk in a cocktail is perfect for anyone who wants a creamy drink without the dairy. Or anyone just looking for the benefits of whole grain oats like added protein and fiber. Oat milk is easier on your stomach than dairy milk, which is especially important for alcoholic drinks and dessert drinks like this one. Choosing Willa's Oat Milk makes this drink creamy without it becoming too heavy, just how we like our cocktails. It is light, refreshing, and perfect for spring!

Love meringue, but avoiding eggs? Not to worry, this drink recipe is 100% vegan, dairy free, egg free, and all that jazz.

If you're looking to make this drink a little on the lighter side, go for Willa's Unsweetened Original.

A seasonal favorite 
The recipe is simple but has an unexpected ingredient… lemon cookies! We love this creative incorporation of a delicious summer treat that adds the perfect lemony flavor with a fun crunchy texture on the rim. We even dare to suggest that you sip this drink with a serving of lemon cookies on the side!

Pro tip: If it's Girl Scout Cookie season, use their Lemonade cookies! Any excuse to support the Girl Scouts, right? :)
If you don't have lemon cookies on hand, feel free to omit them altogether and replace them with a sugar rim. For a sugar rim, pour a couple tablespoons of sugar (we prefer coconut sugar) in a dish, mix with a few drops of lemon juice, and you have the perfect rimming consistency to cling to your glass.

Delicious as a mocktail
Looking to try this as a mocktail or dessert without the alcohol? It makes a lovely and refreshing mocktail! Feel free to try it with lemon and lime or your favorite tropical, citrus juice. Oat milk and citrus flavors combine remarkably well. In fact, Willa's citrus infused Oat Milk Chai Blossom is one of our most popular recipes!
Looking for more oat milk cocktail recipes? Check out our Oat Milk Chai Blossom, and Oat Milk Brandy Alexander.  
Also read our blog about All Our Favorite Holiday Cocktail and Mocktail Recipes  
Coffee more your style? Check out our
Shakerato Oat Milk Latte
 and
Cinnamon Peanut Butter Latte
Lemon Meringue Cocktail
Ingredients
3.5 oz Willa's Oat Milk
1 oz Hennessy
.5 oz fresh lemon juice
.5 oz demerara simple syrup
(optional for rim) 2 lemon cookies, store-bought or homemade
(optional for rim) 2 tbsp sugar with a squeeze of lemon juice
Instructions
1. Crush lemon cookies in a bowl and set aside (for a rim without cookies, combine sugar and lemon juice in a dish and set aside)
2. Take a glass and dip the rim in a bowl of water, pull it out and dip into the crushed cookies to coat the rim. Set aside.
3. Combine the rest of the ingredients in a mixing glass
4. Add ice and shake vigorously
5. Double strain into glass (@db.drinks suggests a cordial glass for this)