Iced Salted Caramel Matcha Latte with Oat Milk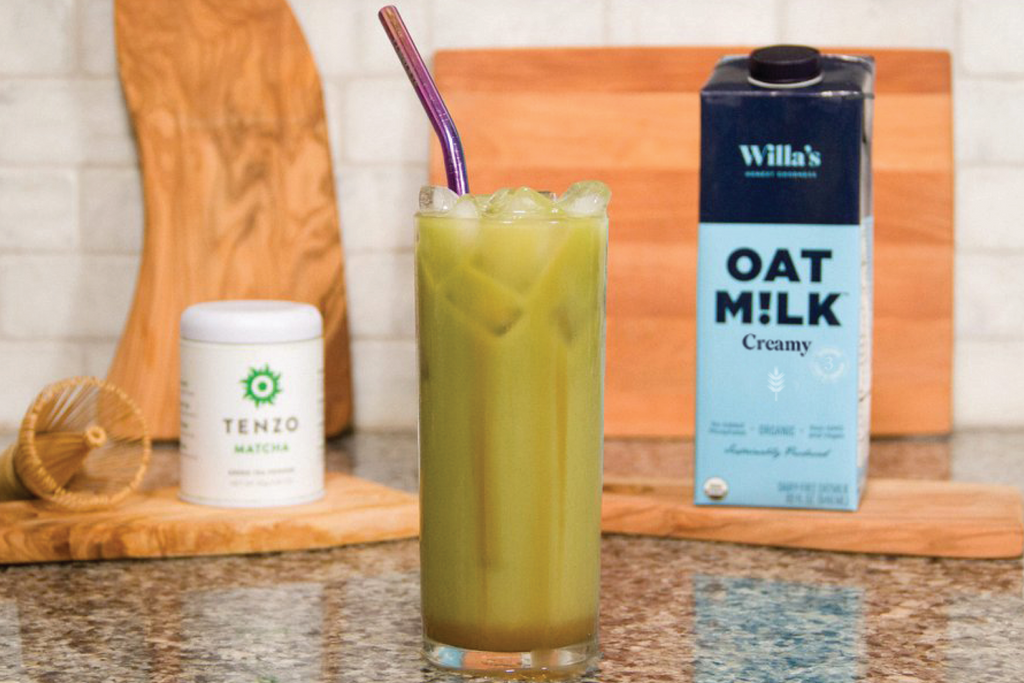 Prep Time
5M
Cook Time
0M
Servings
1 serving
Classic matcha lattes, whether they are, hot or iced, unsweetened, with no sugar added are an excellent summer go to. That said, we've got a sweet tooth and when a craving calls, we say go for it with ingredients you can feel good about. We love salted caramel on anything, especially in an iced oat milk latte. 
Matcha, oat milk and caramel work beautifully together. The nuttiness of the oat milk, floral aromas of the tea, and subtly salty caramel balance so well, they might become your go to drink. 
When it comes to tea, we love matcha from Tenzo Tea. Theirs is organic, ceremonial grade, and tastes floral and smooth. It blends nicely without all the clumps you get from poorer quality matchas. They also have a great matcha blender, their Tenzo Shaker Bottle that is sort of works like a cocktail shaker. It makes whipping up an iced matcha latte super easy. That said, you can also use a water bottle or mason jar. 
The Search for THE BEST Salted Caramel Recipe
We searched for the ultimate caramel recipe and you can find our favorite take, on THE BEST Salted Caramel Recipe here. Ours is dairy free, and can be made paleo as well. The best part is it's easy to make, absolutely scrumptious, and you can feel good knowing that when you use Willa's Oat Milk, it's made without corn syrup, or any junk.
But the Caramel always falls to the bottom of lattes…
It's annoying, isn't it? You treat yourself to a delicious drink only to have the treat part fall to the bottom in a big clump. We created a new method. We use our Tenzo Shaker twice… First we make the iced matcha in it. Then we shake up the caramel and oat milk together in it and pour that on top of the matcha. That way the caramel is mixed in before you pour it and doesn't immediately end up sinking to the bottom of the glass! You can also use a mason jar or water bottle for the oat milk/caramel mix.
You can always find more of our recipes here, on our Pinterest page, and @Willas_Kitchen on Instagram.
Interested in more oat milk recipes? Check our Willa's Caramel Sauce Recipe, which also happens to be dairy free and can be made paleo.
Looking for more matcha latte recipes? Check out Willa's Iced Oat Milk Matcha Latte, Classic Steamed Matcha Latte, and Oat Milk Peppermint Matcha Latte.  
Looking for another sweet recipe? Check out our Oat Milk Cafe Con Miel (with honey), and our Oat Milk Sweet Potato Maple Bourbon Latte.
Looking for more iced drink recipes? Check out our Oat Milk Chai Blossom, which can be made with or without alcohol. 
Iced Salted Caramel Matcha Latte with Oat Milk
Ingredients
water
tenzo tea matcha
willa's oat milk
willa's salted caramel sauce
Instructions
1. Shake up the Matcha, with water in a Tenzo Shaker Bottle. Or use your matcha whisk in a bowl. If you don't have either of these, you can also use a water bottle, cocktail shaker, or mason jar to shake up the matcha.
2. Pour it into your glass full of ice.
3. Then shake together the oat milk and all of the caramel (except the tablespoons you're saving for drizzling). This will help prevent the caramel from falling to the bottom of the glass.
4. Now pour that oatmilk/salted caramel on top.
5. Stir, and drizzle a little extra caramel on top if you like.