Creamy Pesto Pasta (dairy-free and vegan)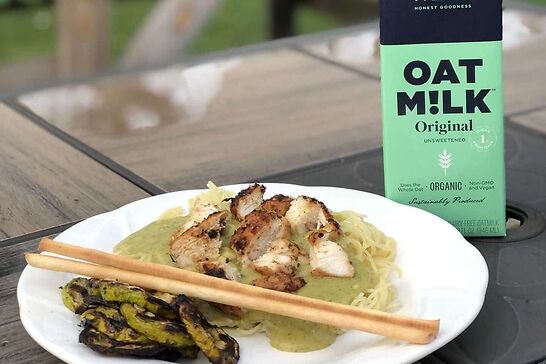 Prep Time
0M
Cook Time
10M
Servings
5 servings
Busy days call for simple, speedy meals, and this creamy pesto pasta is the perfect weeknight recipe. All you need is 10 minutes and five ingredients and you are on your way to a deliciously satisfying dinner!
What's not to love about pesto. We love it with just about everything.  pesto to the oat milk cream sauce creates a rich, flavorful combination, quick to become your favorite, easy pasta recipe!  Plus, pesto packs healthy punch of good for you, unsaturated fats. The olive oil, nuts, and basil in pesto also provide vitamins, minerals, and antioxidants.
Try making a homemade pesto
In the summer months when basil is in season and readily available, try making your own pesto at home! It's surprisingly easy to make and only requires a few simple, clean ingredients. Plus, homemade pesto has a much more vibrant flavor with oftentimes less sodium than the store-bought versions. 
Pesto is traditionally made with pine nuts, but you can use any nut you like! Walnuts, macadamia nuts and pistachios are all great alternatives that give a similar rich, nutty flavor. Pesto is most commonly made with basil, but if you'd like to switch up the flavor and try something new, other leafy greens like kale, spinach, and arugula are great options. If you prefer a cheese-free pesto, nutritional yeast mimics the Parmesan cheese flavor and thickens up the sauce like a shredded cheese would.
Add your favorite ingredients for a heartier meal
This recipe is a great base to customize as you like. To make it hardier and even more flavorful, add your favorite vegetables like onions, zucchini, broccoli, bell peppers, or mushrooms. For some protein, top with chicken or your favorite plant-based meat alternative. For the best timing, we recommend cooking your vegetables and protein in a separate pan while boiling pasta and making the sauce so all ingredients are done around the same time.
Check out our other oat milk pasta recipes like this One-Pot Spinach and Green Pea Pasta with Oat Milk, Vegan Baked Mac 'n' Cheese, or this Oat Milk Kimchi Pasta.
For dessert, try this Raspberry Dark Chocolate Oat Milk Ice Cream or these Oatmeal Raisin Cookies. 
Need an easy weekday breakfast? See this Green Smoothie Bowl, these Strawberry & Cream Baked Oats, and these Chocolate Tahini Overnight Oats.  
Cool down with these refreshing summer drinks: Summer Solstice Sunny Dreamsicle & Lavender Blackberry Italian Cream Soda with Oat Milk.
Creamy Pesto Pasta (dairy-free and vegan)
Ingredients
Homemade Pesto:
1 cup fresh basil leaves
2 tbsp nut of choice (we used pine nuts)
2 cloves garlic
¼ cup shredded vegan parmesan cheese or nutritional yeast (optional)
¼ cup olive oil
Creamy Pesto Pasta:
⅓ cup vegan butter
¼ cup flour
2 cups Willa's Unsweetened Original
½ cup pesto (store bought or homemade)
12 oz pasta
Instructions
Homemade Pesto:
1. Blend basil, nuts, garlic, and vegan parmesan or nutritional yeast in food processor or blender until finely ground
2. Slowly add oil and continue to blend until smooth
3. Use fresh, store in refrigerator for up to a week, or store in freezer for up to 6 months
Creamy Pesto Pasta:
1. Boil pasta according to package directions and set aside
2. Melt vegan butter in a pan over medium heat
3. Add flour and mix until combined
4. Let cook for 2 minutes, stirring constantly
5. Add oat milk, continuing to stir
6. Let simmer for about 5 minutes or until sauce has thickened
7. Mix in pesto and remove from heat
8. Toss pasta with sauce, add any additional ingredients of your choice, and enjoy!