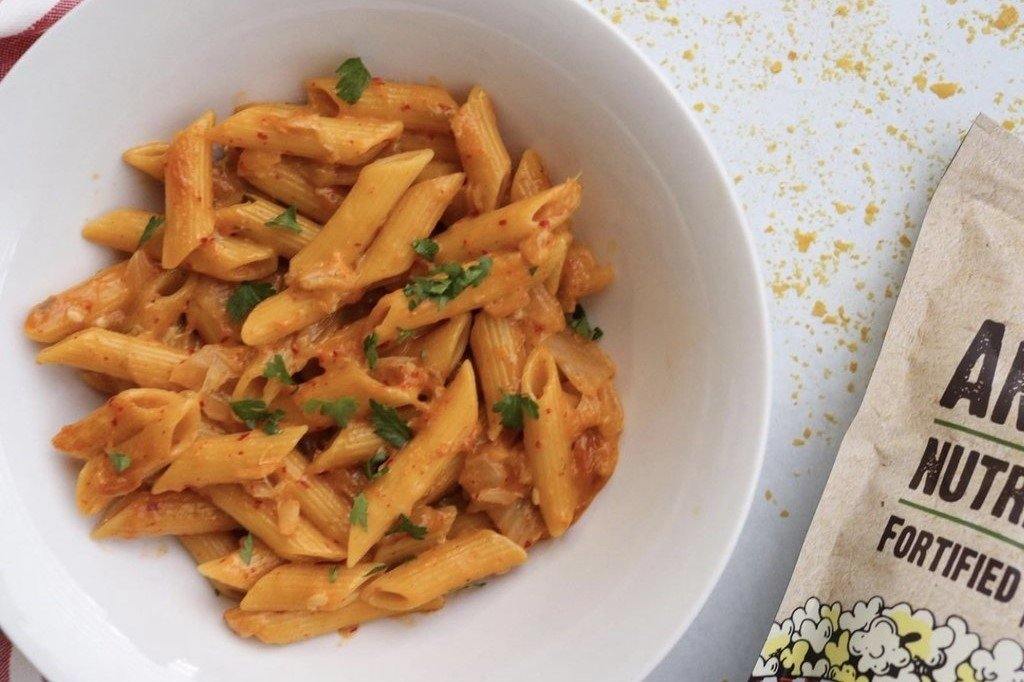 Prep Time
10M
Cook Time
15M
Servings
About 3 servings
The perfect substitute  
Pasta dishes are a staple meal that is warm, filling, and delicious. Many recipes tend to use heavy creams and cheeses that can make it difficult for dairy-free and vegan pasta lovers to enjoy. But this one by Megan uses Willa's Oat Milk which is the perfect creamy substitute for pasta dishes! It includes arrowroot flour (or cornstarch) which acts to thicken the sauce so you get a great texture without any dairy. 

And if you're gluten sensitive, you can always try this recipe with a gluten free pasta like Megan did. If not, go for your favorite organic pasta. 
Flavor fusion 
You can rest assured that this recipe will not lack flavor! Kimchi is the star ingredient, bringing in a bit of a kick. This Korean cuisine staple of fermented vegetables not only adds a tang but it is also a probiotic powerhouse. Kimchi and pasta are not a typical combo, but we think they should be!   
The ingredient list also includes a dairy and lactose-free favorite, nutritional yeast, adding some cheesiness and nutty flavor to this creamy dish. If you have yet to try nutritional yeast then we highly recommend, especially if you love parmesan, but try to avoid dairy. It pairs well with just about any dish!     
Check out Megan's Instagram for more dairy-free dishes!   
For more savory oat milk recipes try our Cauliflower and Potato Gratin and BBQ Chicken Wings.   
Oat Milk Kimchi Pasta
Ingredients
Olive oil or butter for the pan
½ cup kimchi, chopped
¾ cup Willas Unsweetened Oat Milk
2 cloves of garlic
1 tbsp arrowroot flour (or cornstarch or tapioca flour) + water to make a slurry
1 tbsp nutritional yeast
½ box of pasta (Megan used @eatbanza to make this recipe gf friendly)
Handful of vegan mozzarella shreds
Instructions
1. Preheat a pan over medium heat and add a little bit of butter or oil.
2. Add chopped kimchi and sauté.
3. Cook pasta of choice according to box instructions.
4. In the kimchi pan, add Willa's Oat Milk, garlic, arrowroot flour slurry (dissolve it in some water before adding), and nutritional yeast. Stir until combined and the sauce thickens.
5. Add shredded cheese and stir until melted.