Strawberry & Cream Baked Oats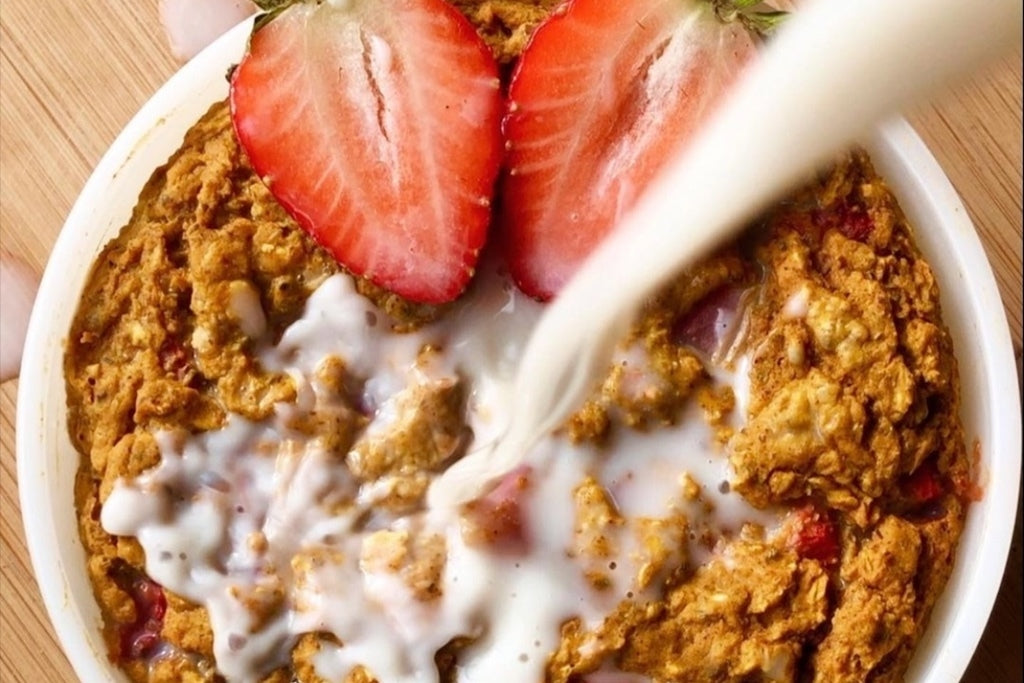 Prep Time
5M
Cook Time
25M
Servings
1 serving
Sweet Mornings   
Mornings aren't so bad when they start off with a delicious breakfast! Jessa, a queen of baked oats, shared with us these strawberry and cream baked oats that are a great breakfast recipe. Fresh strawberries, creamy oat milk, and hearty oats create a mouthwatering breakfast combo. If you haven't tried baked oats yet… this recipe is the perfect one to start with! 
Oats on Oats
Not one, not two, but THREE of the ingredients pack in the nutrients of oats. The whole grain oat difference is something we value at Willa's so we love using our oat milk in oatmeal. Check out the benefits of oats on our blog and you will want to pack more oats into your diet too! Oat milk is also the more sustainable plant-milk option which you can read all about here.    
If you don't have oat flour on hand, it is extremely easy to make at home. Simply, grind whole grain oats in a food processor or blender until a fine flour is formed. You can also prep all your ingredients ahead of time to make the morning baking extra easy. Just combine all your ingredients (except the strawberries) and leave in the fridge until you are ready to bake. 
Don't forget our favorite step, pouring a little oat milk over top. The extra splash makes the oats gooier and creamier!     
Check out Jessa's Instagram for more baked oats recipes!    
For more easy breakfast recipes try our Chocolate-Tahini Overnight Oats and Blueberry Chia Pudding.   
Pair your oats with an energizing cup of coffee like this Shakerato Latte or Oat Milk Dalgona Latte.  
For more oat-milk recipes check out
our recipes page
!
Strawberry & Cream Baked Oats
Ingredients
¼ cup rolled oats
¼ cup oat flour
⅓ cup pumpkin or mashed banana or applesauce
1 tsp chia seeds
1 tsp ground flax seeds
1 tsp baking powder
1 tsp vanilla extract
Dash of cinnamon + salt
Protein powder (Jessa used vanilla @kos)
½ to ¾ cup Willa's Oat Milk
Handful of chopped strawberries
Toppings of choice
Instructions
1. Preheat oven to 400°F
2. Combine all ingredients except the chopped strawberries
3. Fold in the strawberries and transfer to an oven safe dish. Bake for 25-30 minutes or until the top is golden brown.
4. Top with your extra goodies and enjoy! Jessa added extra strawberries, peanut butter, Willa's Oat Milk, cinnamon.