Chocolate-Tahini Overnight Oats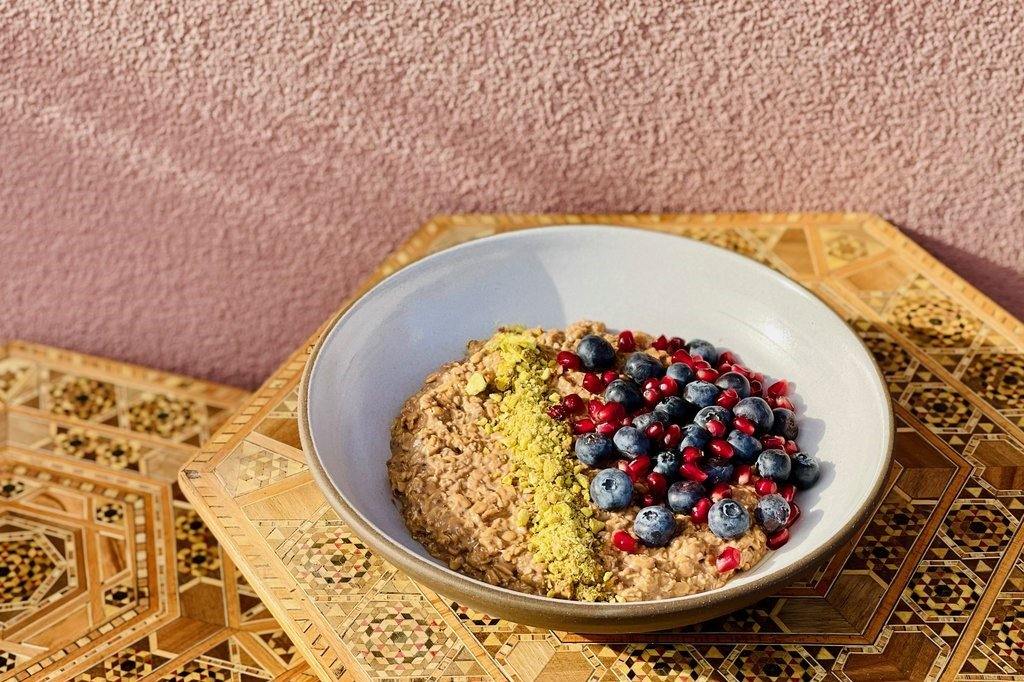 Prep Time
4M
Cook Time
8H
Servings
4 Servings
Photos courtesy of Isabelle Xia
Find it at Edy's Grocer 
We are so excited to share this new recipe for overnight oats created by Edy the founder and owner of Edy's Grocer, a Lebanese Grocer & Deli. If you are lucky enough to live near Edy's in Brooklyn, NY then you can now pick up a bowl of chocolate-tahini overnight oats there! Be sure to check out their full menu because there is no shortage of delicious breakfast, lunch, and main options. Even if you aren't able to visit Edy's Grocer in-person you can still follow their Instagram to see their fun food content. We had no idea grocery shopping could look so good! 
Sweet & Salty 
A chocolate-tahini bowl of oats is our favorite pairing of sweet and salty. The pistachio topping and nuttiness of tahini create a balanced combo with the fruit and sweetness of the oats. Willa's Oat Milk combined with tahini makes for a guaranteed creamy bowl of oats. Leaving it in the fridge overnight gives it a porridge-like consistency without having to do any cooking. That means less time and fewer dishes which is a win-win in our book! 
Pro tip: for an extra chocolatey flavor, use Willa's Dark Chocolate Oat Milk!
Don't forget to check out Edy's Grocery Store: Instagram and website.    
For more easy breakfasts check out our Blueberry Chia Pudding, Banana Chia Oat Milk and Protein Bowl, and Green Smoothie Bowl.    
Chocolate-Tahini Overnight Oats
Ingredients
2 cups of Willa's Oat Milk
¼ cup date molasses, date syrup or maple syrup
1 tbsp kosher salt
2 tbsp cacao powder
⅓ cup tahini
2 ½ cups oats
2 tbsp chia seeds
Pistachios (chopped)
Fresh fruit for topping
Instructions
In a blender, pour Willa's oat milk, salt, cocoa powder, date molasses, and tahini. Blend for 2 minutes until fully combined.
In a large bowl, mix oats and chia seeds
Pour oat milk mixture over the oats. Mix until fully combined.
Let soak overnight in the fridge until it becomes a porridge-like consistency.
Serve in a bowl and top off with chopped pistachios and fresh fruit. Enjoy!