Raspberry Dark Chocolate Oat Milk Ice Cream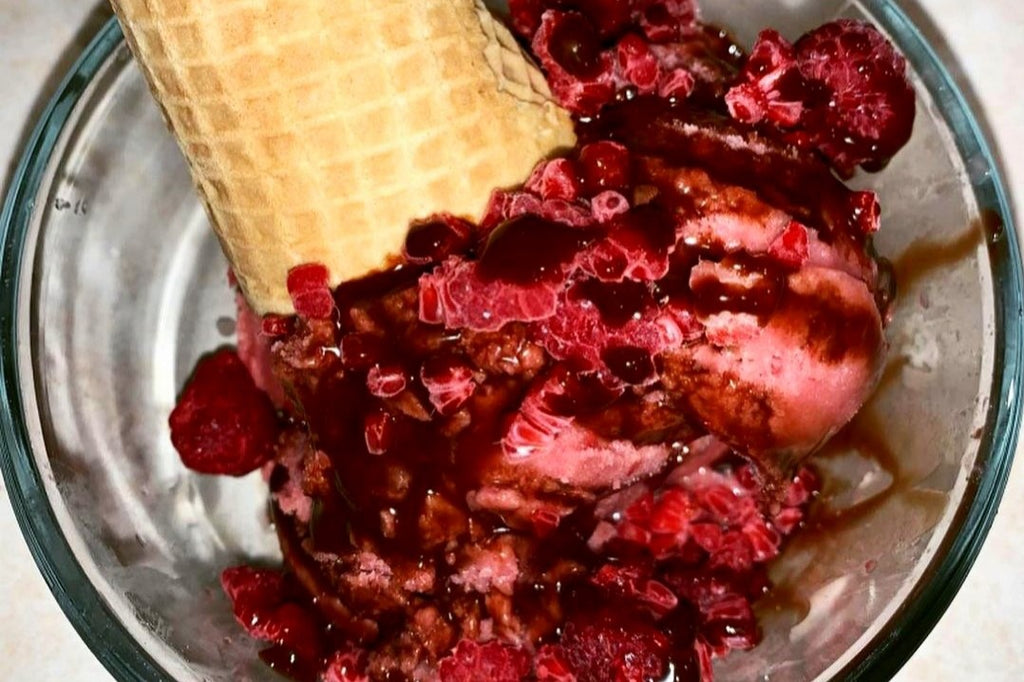 Prep Time
40M
Cook Time
20M
Servings
1 Pint
Everyone needs a go-to ice cream recipe during these hot summer days. This one by
Two Sisters and a Stove
calls for only five simple ingredients and combines two of the best flavors - rich dark chocolate and a summer favorite, raspberries!
This ice cream stays fresh in the freezer for around one month (if you can make it last that long), so it's perfect to make ahead and save for those late night sweet tooth cravings.
No ice cream machine? No problem!
Two Sisters and a Stove used an ice cream maker in their rendition, but this recipe is compatible with a blender, too. All you need to do is throw the ingredients in your blender, pulse until combined, and freeze for a few hours until it's firm enough to scoop. 
Opt for a homemade chocolate sauce
Making chocolate sauce at home is surprisingly easy! The recipe below calls for only five ingredients that you likely already have in your pantry. Plus, when you make a homemade sauce, you are skipping all of the additives and high fructose corn syrups found in the store-bought versions. On top of that, unsweetened cocoa powder like that used in the recipe below is rich in antioxidants and great for heart health.
Follow Two Sisters and a Stove on Instagram and TikTok for more fun recipe ideas!
Want more oat milk ice cream treats? Check out our Boozy Mocha Oat Milkshake and Chocolate Frozen Custard with Oat Milk.
For more fun desserts, try these Oatmeal Raisin Cookies, Dairy Free Coconut Buttercream Frosted Cupcakes, & this Waffle Pudding Parfait.
For more oat milk recipes, browse our
recipe page
.
Raspberry Dark Chocolate Oat Milk Ice Cream
Ingredients
2 cups Willa's Oat Milk
1-2 tbsp dark chocolate syrup
½ cup frozen raspberries
½ cup chopped dark chocolate or mini chocolate chips
1 tsp vanilla extract
Dark Chocolate Sauce Ingredients
½ cup unsweetened cocoa powder
1 cup sugar
A pinch of salt
½ cup cold water
1 ½ tsp vanilla extract
Instructions
With Ice Cream Maker
Mix all ingredients in a large bowl
Let mixture chill for 30 minutes
Once chilled, pour mixture into ice cream maker and churn until it reaches ice cream consistency (around 20 minutes)
Scoop it up and drizzle with your dark chocolate sauce
With Blender
Place all ingredients in blender and blend until incorporated
Pour ice cream mixture into a freezer-safe container and freeze for ~5 hours
Scoop it up and enjoy!
Store covered in freezer for up to one month
Dark Chocolate Sauce Instructions
Place cocoa powder, sugar, and salt in a saucepan (without heat) and whisk until combined
Add cold water and mix
Place saucepan on burner at a medium-high heat and bring mixture to a boil
Reduce to a simmer and stir constantly for 30 seconds
Remove saucepan from heat
Once sauce is cooled completely, stir in vanilla extract
Pour into a glass jar and refrigerate to thicken
Store covered in the refrigerator for up to two weeks