Dairy-Free Creamy Tomato Apple Soup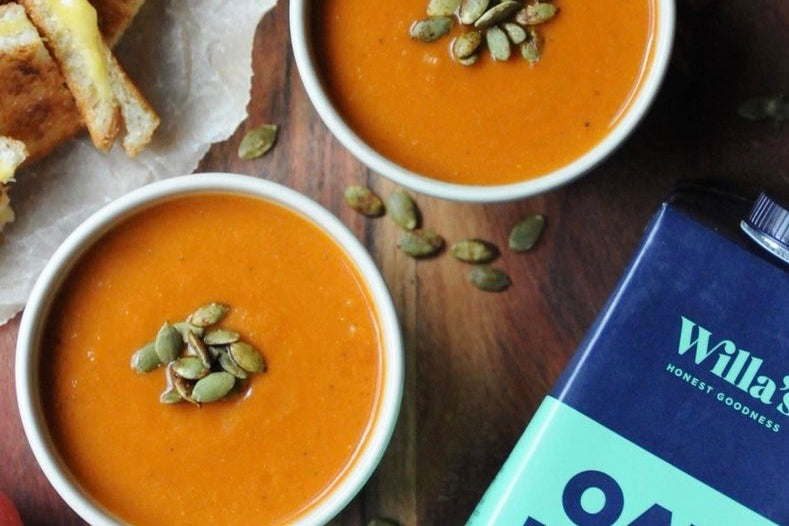 Prep Time
10M
Cook Time
30M
Servings
4-6 servings
Soup is our go-to comfort meal for these colder weather months. Our friend Sarah of foodallergymoms_andmore on Instagram has perfected her healthy, creamy tomato soup recipe. And the best part? It's dairy free using Willa's Unsweetened Original!
Make it a meal with your favorite sides
We love pairing tomato soup with a hearty bread. Check out our easy vegan bread recipe with a gluten free option that is perfect for toasting up and dipping in your tomato soup. Fry up this bread with your favorite vegan cheddar cheese and you have a dairy-free alternative to the classic tomato soup and grilled cheese combo.
For something different, try our cauliflower and potato gratin recipe that is also dairy free and a tasty way to add more veggies to your meal.
How to perfectly freeze your soup
Tomato soup is the perfect dish to make ahead for leftovers throughout the week, and is so easy to freeze and save for those days you just don't feel like cooking.
To freeze your tomato soup, let it cool completely after cooking. Pour the soup into freezer-safe plastic containers (we recommend freezing a few servings per container so they are already portioned out when you are ready to reheat!). Leave a couple inches of empty space at the top of the containers to allow the soup room to expand while in the freezer. 
When you're ready to eat your soup, it's best to reheat it slowly to prevent separation as it has a creamy base with the oat milk. It is best to transfer your container into the fridge to thaw overnight. Then, when you are ready to heat, throw it in a saucepan over medium-low heat on the stove until it reaches your perfect temperature. 
Follow foodallergymoms_andmore on Instagram for tons of allergy-friendly recipes!
Shop Willa's Oat Milk here.
For more dairy-free fall recipes, try our Oat Milk BBQ Chicken Wings, Hearty Banana Nut Muffins, & Creamy Pesto Pasta.
It's pumpkin season! Check out these recipes:
Pumpkin Spice Oat Milk Creamer
,
Almand and Oat Pumpkin Bread
,
Paleo Pumpkin Pancake Donuts
,
Pumpkin Oat Milk Nice Cream
,
Pumpkin Cream Cheese Muffins
.
Dairy-Free Creamy Tomato Apple Soup
Ingredients
2 tbsp extra virgin olive oil
2 tbsp plant butter
3/4 cup chopped yellow onion
2 cups peeled, chopped apples (Sarah used Gala)
1 tbsp pure maple syrup
1 tsp kosher salt
15.5oz can cannellini beans, drained & rinsed
2 cups unsalted chicken stock (for vegan option, use vegetable stock)
1 cup Willa's Original Unsweetened Oat Milk
24oz jar marinara sauce
1/2 tsp freshly grated whole nutmeg
Garnish with pumpkin seeds (optional)
Instructions
1. Heat oil & butter in large pot over medium heat. Add onions & apples; stir occasionally for 5 minutes
2. Add maple syrup & salt; stir
3. Add beans; stir occasionally for 5 minutes
4. Add stock, oat milk, and marinara sauce; stir and cover pot with lid
5. Increase heat to med-high & bring to a low boil. Reduce heat to a simmer
6. Stir in nutmeg. Ladle into bowls & garnish with pumpkin seeds