Hearty Banana Nut Muffins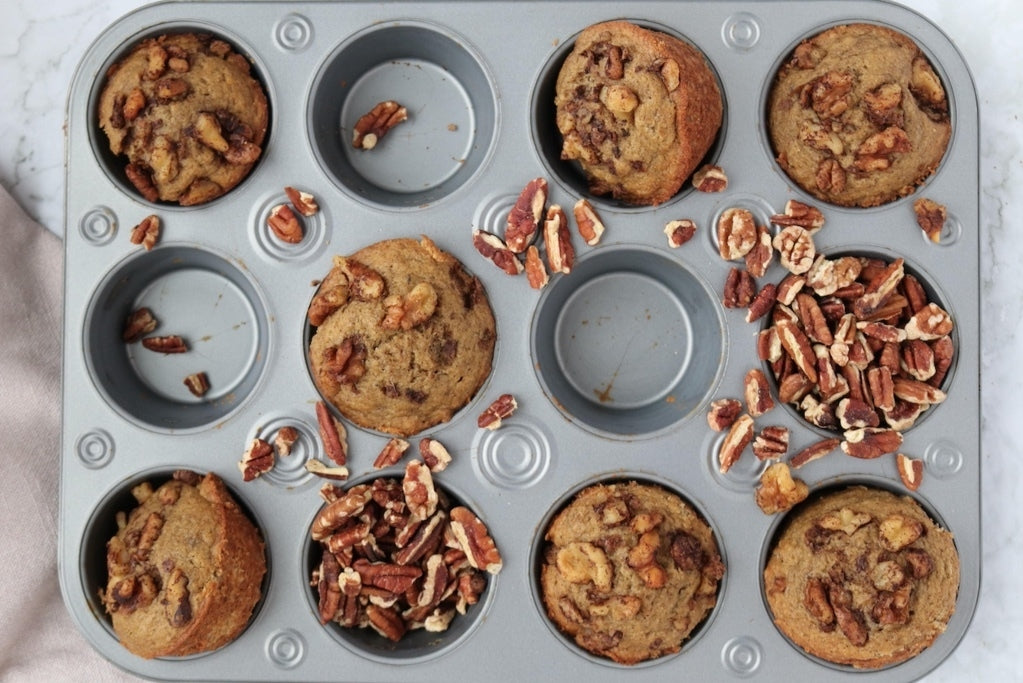 Prep Time
15M
Cook Time
18M
Servings
1 muffin tin
This recipe was shared with us by Lauren who is a Professional Nutritionist and has loads of yummy recipes @piece.of.lulu on Instagram. Check out her feed and follow @Willas_Kitchen on Instagram for our latest dairy-free recipes.
Yummy and nutrient packed.
We love baking superhero muffins of all kinds, but we hadn't tried a superhero muffin meets a banana bread before. This recipe combines the sweet yumminess of banana bread with the nutrients of a superhero muffin. 

Made with Willa's Oat Milk, which makes them extra fluffy.

And this recipe, of course, features Willa's Oat Milk. As we've discussed in previous posts, our oat milk is a perfect dairy-free substitute for baking and cooking. We recommend trying Willa's Barista Oat Milk, as its creamy and subtly sweet flavor complements these muffins so well. That said, Willa's Unsweetened Original Oat Milk works beautifully for baking as well. Our recipes page also has ideas to get started with tea and coffee drinks that would pair perfectly with these muffins.

Substitute how you like.

With this recipe, it's easy to make substitutions to suit your tastes and dietary needs whether you are dairy free, vegan, or avoiding things like gluten or cane sugar. 

You can replace the 2 cups of Oat flour with 'regular' all-purpose flour or almond flour if you're looking to bring in some more good fat and protein. The eggs and butter in this recipe can also be swapped with vegan alternatives if you'd like to make your muffins vegan. If you prefer more nuts, add additional chopped walnuts into the muffin mixture before cooking.

If you're new to baking, we love this round up for how to get prepped.

If you're looking for more muffin recipes, try our Healthy Fall Breakfast Muffins. 
If you want to learn more about
the health benefits of substituting oat milk
check out some of our other blog posts. We dive into
why we use whole grain oats
,
sugar levels in oat milk
, and
the importance of fiber in our oat milk
.
Hearty Banana Nut Muffins
Ingredients
2 cups oat flour, gluten-free flour, or almond flour
2 tsp. baking powder
1 tsp. cinnamon
1/2 tsp. baking soda
1/2 tsp. nutmeg
1/4 tsp. salt
2-3 ripe bananas
1 cup brown sugar, packed
1/3 cup Willa's Oat Milk
2 eggs or your egg substitute of choice
4 tbsp. butter or vegan butter, unsalted and melted
1.5 tsp. vanilla extract
1/2 cup chopped walnuts
1/4 tsp. cinnamon
Instructions
1. Preheat your oven to 350 and use muffin liners, a good cooking oil spray or butter.
2. In a medium bowl, combine all dry ingredients then set aside.
3. In a large bowl, use an electric mixer to combine bananas and brown sugar.
4. Blend until it reaches applesauce consistency.
5. Add in the Willa's Oat Milk, eggs, butter (after melting the butter in a bowl in the microwaves the bowl aside), and vanilla. Use electric mixer to combine.
4. Slowly fold dry mixture into wet mixture.
5. Place the chopped walnuts and cinnamon into the bowl you melted the butter in then mix until nuts are coated in cinnamon. The butter residue will assist in this.
6. Fill muffin tin 3/4 full with muffin mixture. Top with coated walnuts.
7. Cook in oven for 18 minutes or until you can stick a toothpick in the center of a muffin and have it come out clean. Once cooked, immediately remove from muffin tin and place on a cooling rack.