Purple Pistachio Ube Latte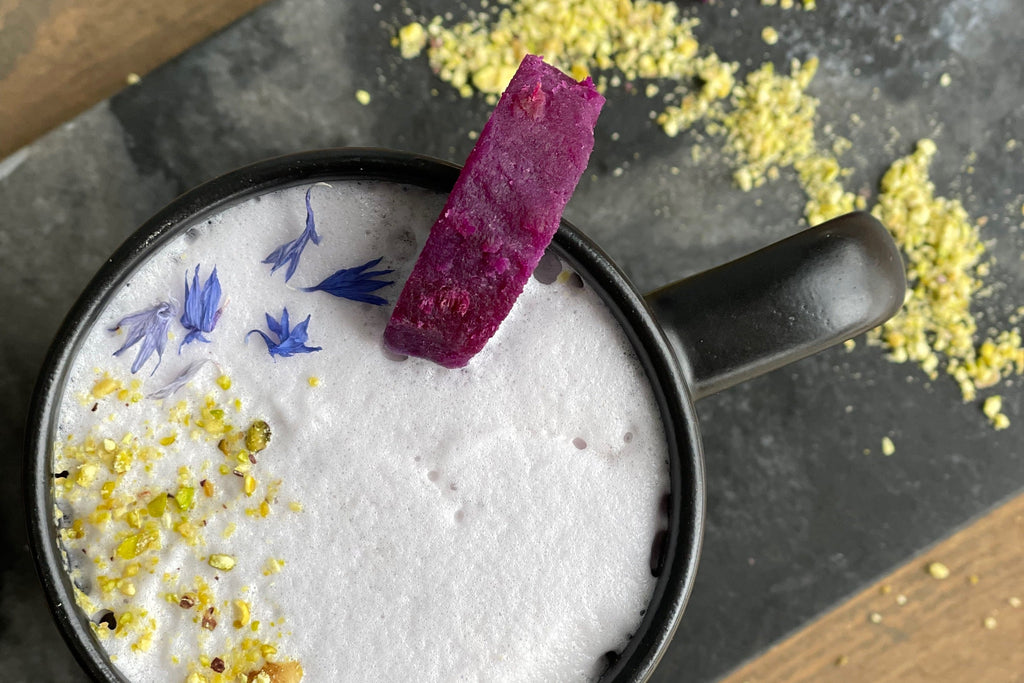 Isn't this the most beautiful latte you've ever seen?! Spoiler alert… It tastes incredible too. 😋
Our friend Kate Daugherty (IG @katelyndaughertyy) from The Facility Denver kills every recipe she creates, this one included! Follow her for health and wellness content, and of course, amazing food inspiration.
NEW Willa's Barista Oat Milk!
We are thrilled to share our first recipe using Willa's Barista Oat Milk! We worked with champion baristas and chefs to ensure it satisfies their high standards in a cafe, as well as at home using real, honest organic ingredients and the whole entire oat. This new oat milk is what your at-home barista dreams are made of!
So… what's ube?
Ube is a sweet yam with a deep purple color. Their flavor is a bit milder than sweet potatoes with notes of vanilla, and so delicious. The versatile food is most common in the Philippines where it is used in many dishes or eaten on its own, mashed. You may have already seen ube on your Instagram feed in many rich purple desserts.
At-home pistachio syrup
Pistachio is the perfect flavor pairing with ube! If you'd like to skip the store-bought, overly sugary stuff, opt for this super easy at-home version. With three simple, easy to find ingredients, this syrup is foolproof. And better yet, it stays good in the refrigerator for 7 days, so you can add it to your lattes all week long.
Skip the espresso for a caffeine-free treat
This recipe includes espresso, but feel free to leave it out for an equally delicious drink. Without the coffee, these ingredients make a flavorful steamer full of creamy, oat-y goodness. 
Shop the NEW Willa's Barista Oat Milk here!
Wondering how to steam your oat milk at home? Read this blog post for all the tips! 
Follow Kate Daugherty for more amazing recipes like this one!
For more recipe ideas using Willa's Barista, check out our Cinnamon Peanut Butter Latte, Banana Bread Latte, Spiced Mocha Dalgona Coffee, Cardamom Maple Latte, and Classic Matcha Latte.
Loved this pistachio syrup? See our lavender syrup and salted caramel sauce recipes!
Find more delicious recipes using Willa's on our recipe page.
Purple Pistachio Ube Latte
Ingredients
12 oz Willa's Willa's Barista Oat Milk
½ small Purple Ube baked; or Purple Japanese Potato
1 oz Espresso (optional)
1 oz Pistachio Syrup
Pistachio Syrup Ingredients
1/4 cup Ground Pistachios
1/4 cup Maple Sugar
1/2 cup Water
Instructions
To make the pistachio syrup, combine ground pistachios, maple sugar, and water in a small saucepan and bring to a boil. Continue stirring until thickened and coats the back of a spoon. Pour through a fine mesh strainer and allow to cool. Keep refrigerated for up to one week.
In a blender, combine oat milk and baked potato. Blend until smooth.
To make a latte, add espresso (optional), syrup, and oat milk to a mug. Reserve a small amount of oat milk-ube mixture and foam using a milk frother or whisk. Pour foam on top and garnish with ground pistachios.