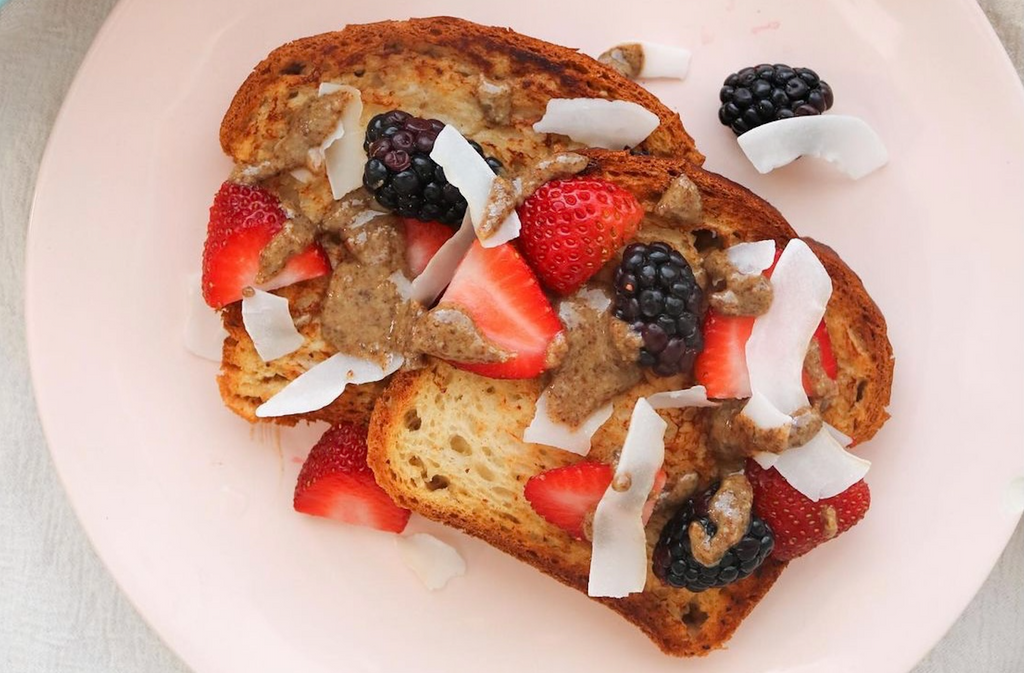 Prep Time
3M
Cook Time
12M
Servings
1 Serving
For us, French toast brings up nostalgia and memories of our mom making big weekend breakfasts. This recipe, however, is a whole new take on French toast with plant based, vegan ingredients (no dairy and gluten optional). Plus, it has a delicious flavor with bananas, cinnamon and a touch of vanilla.

We love to incorporate oat milk into our morning meal. Willa's Oat Milk is filled with more prebiotic fiber, protein and nutrients than the average oat milk, making it the perfect way to round out your breakfast and start to the day. This means it works to help keep you full and sustained for longer! 
Oat milk, a perfect substitute 
This recipe is a take on classic french toast created by Megan (@sayimafoodie on Instagram). We are keeping it simple yet making it gluten free, dairy free, and vegan! French toast is a fun recipe that you may not think to make every day but this one uses ingredients that do not require a special trip to the grocery store. You can even purchase our oat milk directly online through our website and Amazon so it is easier than ever to have the right ingredients on hand. 
If you have read our other recipe posts you may have noticed a trend… we love to make dairy and gluten free recipes! By replacing just a few ingredients it is easy to make virtually any recipe allergy or dietary preference-friendly. We use our oat milk as a replacement for milk and cream in everything from desserts to sauces to cocktails. Typically, oat milk can be used as a one-to-one swap so it does not make the process any more complicated. If you are new to trying oat milk in recipes check out our recipe page for inspiration!  
Try out a new bread 
At Willa's, we like to bring you gluten free recipes but that does not mean we have to skip out on bread! Megan uses a gluten free Hawaiian bread from Canyon Bakehouse. This recipe is versatile so we encourage you to try it with all different types of bread! It is especially fun to check out a local bakery and pick up some fresh loaves to try this french toast with. Remember you will need to soak the bread in the banana and oat milk mixture so choose a sturdy bread and opt for thick slices. 
Breakfast food lovers check out our Easy Oat Milk Waffles  and Waffle Pudding Parfait!   
Pair with an oat milk latte like this Shakerato Latte or Cardamom Maple Latte.   
Check out our latest blog post all about
food waste and why it matters
.
Oat Milk French Toast
Ingredients
A few slices of gluten-free bread (Megan used Hawaiian bread)
1 banana
1 tsp vanilla
½ cup Willa's Oat Milk
1-2 tbsp maple syrup
Cinnamon to taste
Coconut oil (for pan)
Instructions
1. Heat a pan with coconut oil.
2. Blend banana, cinnamon, agave, Willa's Oat Milk, and vanilla and transfer to a shallow bowl.
3. Dip sliced bread in batter on both sides and place in pan.
4. Flip after 6 minutes or when it starts to brown. Cook for another 6 minutes.
5. Add toppings of choice! Megan used berries, coconut, and granola butter.