Easy Dairy-Free Mac 'n' Cheese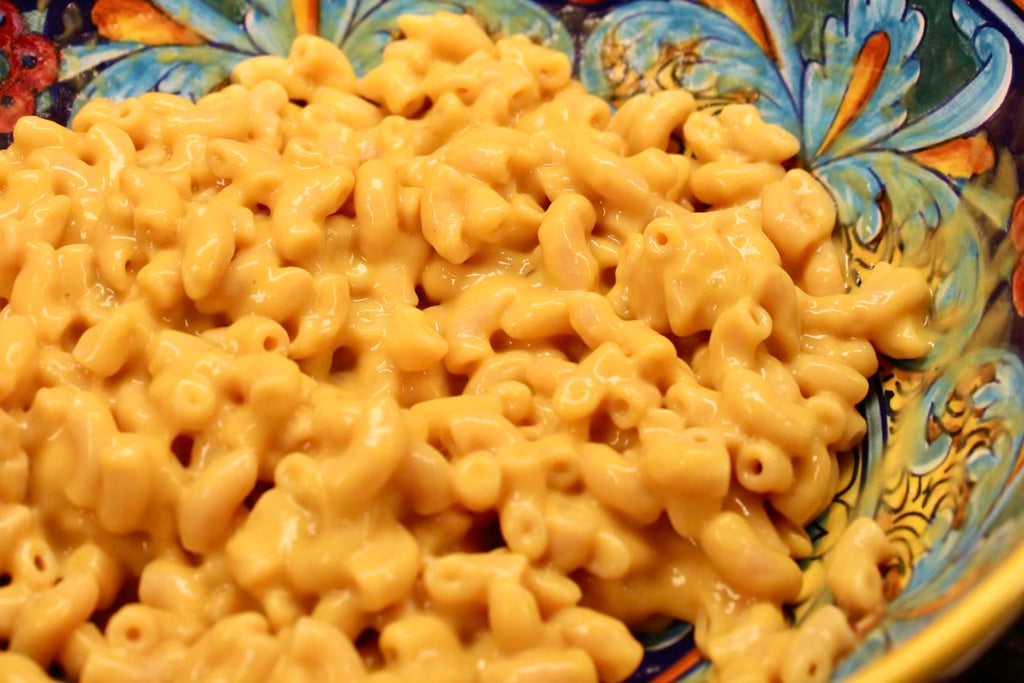 Prep Time
5M
Cook Time
20M
Servings
4 servings
Are you craving a comforting bowl of mac and cheese but want to skip the dairy? Look no further! This Vegan Mac 'n' Cheese recipe will satisfy your cheesy cravings while being plant-based and made with real ingredients.
Made with a simple base of potatoes, carrots, and oat milk, this recipe is perfect for those who aren't looking for something overly complicated. Simple ingredients you recognize, quick to whip up, and allergy-friendly for the whole family to enjoy!
Dairy-free, "cheesy" goodness 
One of the key ingredients that make this recipe both super creamy and dairy-free is Willa's Unsweetened Original Oat Milk. Willa's is an amazing substitute for dairy milk because of our unique whole oat approach. As the only oat milk to use the entire whole grain oat, Willa's has an extra rich and creamy texture as well as being higher in protein and fiber and lower in sugar.
Made gluten-free with Lupii
For this recipe, we used Lupii pasta. Lupii makes delicious pasta out of lupini beans, adding extra protein and fiber to the plate. Lupini beans are also a great crop for sustainability, requiring less water and boosting soil health.
A truly plant-based dish - made with real veggies!
Potatoes and carrots are the base of this recipe's cheesy sauce, and also happen to be nutrient powerhouses. Potatoes are a good source of vitamin C, vitamin B6, fiber, and potassium. Carrots are packed with beta-carotene, vitamin K, and fiber. Incorporating these vegetables into the sauce boosts the meal's nutritional value.
Sneak in turmeric for that classic golden color
Turmeric adds that vibrant golden-yellow color to your mac 'n' cheese to give it that familiar cheesy look. Aside from color, turmeric has a ton of great health benefits. See this Golden Oat Milk with Ginger recipe for another way to add turmeric to your diet.
Add in your favorite fixings
Customize your Vegan Mac n Cheese with additional ingredients like sautéed spinach, roasted red peppers, or diced tomatoes to enhance flavor and nutrition. This recipe offers space for creativity with veggies and caters to a wide range of dietary needs. It's free from common allergens like dairy, eggs, and nuts, making it an inclusive choice for those with food allergies!
Follow Willa's on Instagram and TikTok for fun daily content!
Check out our other oat milk pasta recipes: Creamy Pesto Pasta, One-Pot Spinach and Green 
Pea Pasta with Oat Milk, Vegan Baked Mac 'n' Cheese, Oat Milk Kimchi Pasta
For more creative dishes using Willa's Oat Milk, check out our recipes page. 
Want to learn more about Willa's? Browse our blog page for tons of information!
Shop Willa's Organic Oat Milk here.
Easy Dairy-Free Mac 'n' Cheese
Ingredients
1. Boil carrots and potatos until tender⁠
2. Add all ingredients to a blender and blend until smooth⁠
3. Cook pasta as directed in salted water⁠
4. Rinse pasta⁠
5. Combine everything in a bowl and enjoy!⁠
Instructions
- 1 c chopped potatoes⁠
- 1/2 c chopped carrots⁠
- 1/2 c Willa's Unsweetened Original Oat Milk⁠
- 1/4 c nutritional yeast⁠
- 1 tsp garlic powder⁠
- 1 tsp onion powder⁠
- 1 tsp salt⁠
- 1/2 tsp paprika⁠
- 2 tbsp olive oil⁠
- Squeeze of a lemon⁠
- 8oz Lupii pasta⁠