Cultures for Health Sourdough Pancakes with Oat Milk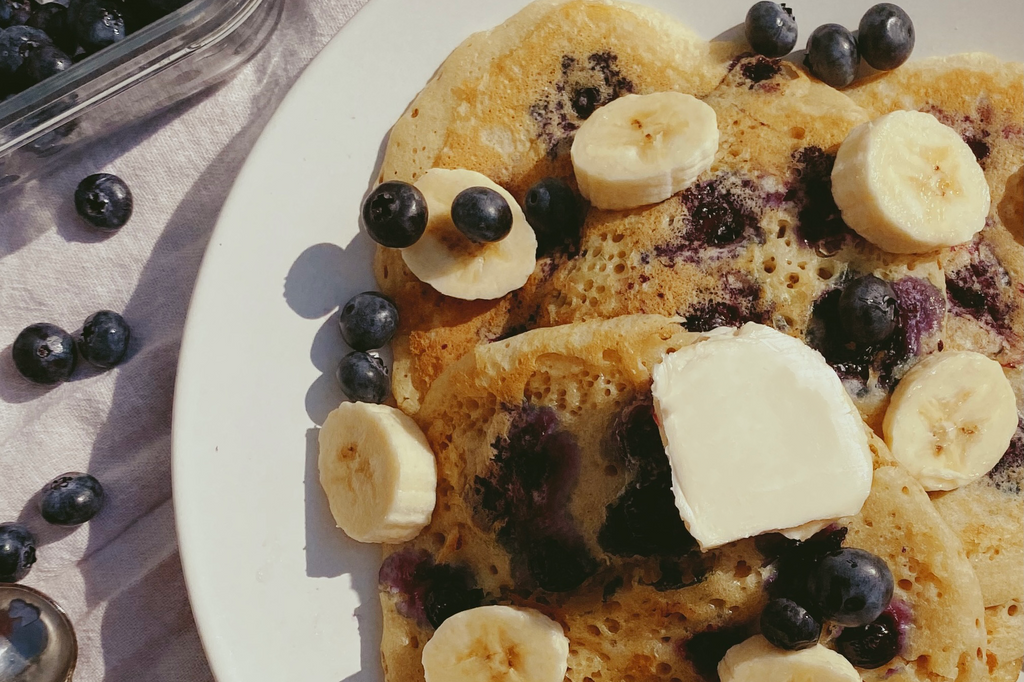 Prep Time
10M
Cook Time
10M
Servings
10 pancakes
Anyone else still have sourdough supplies left over from the quarantine hobby we never quite mastered? This sourdough pancake recipe from Cultures For Health is the perfect excuse to break out that sourdough starter and try again!
Cultures For Health is a company dedicated to making homemade cultured and fermented foods easier and more accessible. Their website has a marketplace to shop all sorts of starter cultures from sourdough to yogurt, kombucha, tempeh, cheese, and more. They also have tons of information for beginners and recipes to get inspiration.
How are sourdough pancakes different?
Because sourdough starter is a fermented food, using it for pancakes creates a unique, slightly tangy flavor just like sourdough bread has. This makes them a great way to switch up your typical weekend breakfast and try something new. Sourdough pancakes are not quite as sweet as normal pancakes, which makes them a great base for adding maple syrup and all your usual favorite toppings. We added blueberries and bananas to ours. Dark chocolate chips, apple slices, and peanut butter would also pair perfectly with these pancakes.
Sourdough pancakes and gut health
Fermented foods like sourdough are great for gut health as they are full of probiotics, or good bacteria. The good bacteria found in fermented foods aid in the digestion of complex carbs, work to fight off "bad" bacteria that can cause illnesses, and help your body create some of the essential vitamins for your health. 
Willa's Oat Milk and prebiotic fiber
At Willa's, we use the whole entire whole grain oat rather than discarding it in the oat milk-making process like other plant milks on the market do. Because of this, Willa's has a deliciously creamy consistency with an amazing oat flavor. By using the whole oat, you are getting all of the oat's natural prebiotic fiber when you drink Willa's. Prebiotic fiber is also great for maintaining a stable bacteria balance for gut health, making these sourdough pancakes with Willa's an overall great source of good bacteria for your morning breakfast!
For everything you need to get started making cultured and fermented foods at home, visit Cultures for Health! 
For more oat milk breakfast recipes, try our Strawberry & Cream Baked Oats, Healthy Fall Breakfast Muffins, and Banana Chia Oat Milk and Protein Bowl with Chocolate.
Looking for a tasty coffee to pair with your morning meal? Check out this Sweet Potato Maple Bourbon Latte, Cardamom Maple Latte, and this Peanut Butter Oat Milk Latte.
Visit our recipe page for so many more oat milk recipes! 
Cultures for Health Sourdough Pancakes with Oat Milk
Ingredients
2 cups Cultures for Health fresh sourdough starter
1 egg
3 tbsp sugar
2 tbsp oil
1 tsp baking soda
2-4 tbsp Willa's Oat Milk
Any add-ins of your choosing (blueberries, chocolate chips, etc.)
Butter or oil to grease pan
Instructions
1. Combine sourdough starter, egg, sugar, oil and baking soda
2. Mix in oat milk one tbsp at a time until batter reaches desired consistency
3. Heat a pan over medium heat and melt butter or oil to grease
4. Onto the hot pan, add ¼ cup of batter for each pancake
5. Cook one side until golden brown
6. (optional) place any add-ins on the uncooked side of the pancake
7. Flip, and cook the other side until golden brown