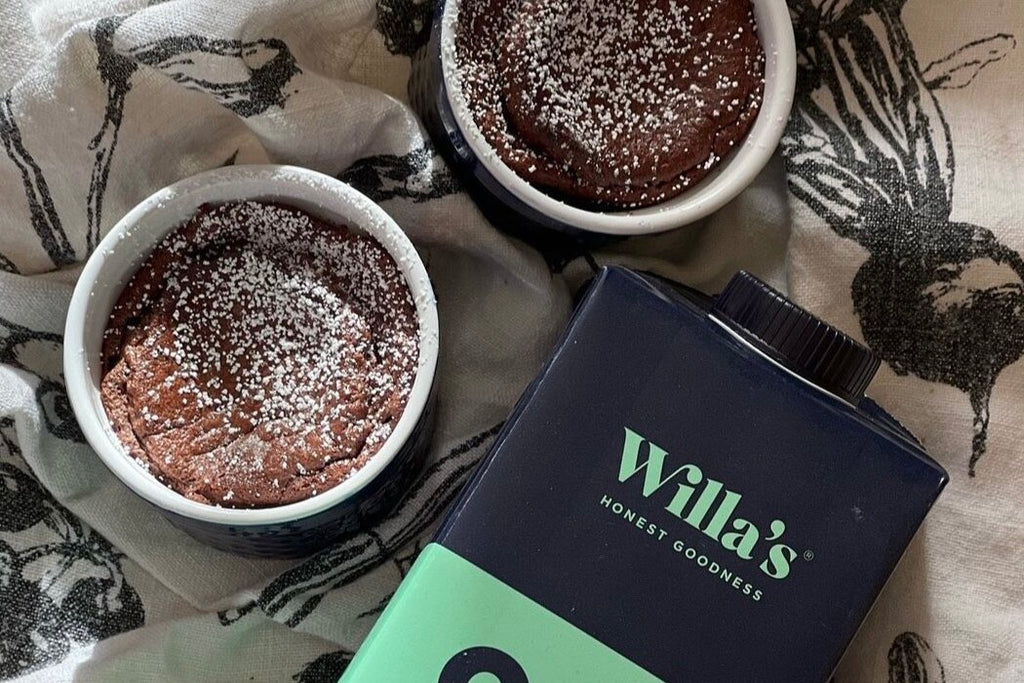 Prep Time
15M
Cook Time
12M
Servings
2 servings
The winter holiday season has us in the mood for all things rich, chocolatey, and indulgent. This dairy-free, gluten-free Chocolate Soufflé by our friend Lu Arjol is the perfect holiday dessert and surprisingly simple to whip up!
From Corrientes, Argentina, Lu is a chef and actress. For the past 10 years, she has traveled around North America, South America, and Europe working in hotels and restaurants while learning about new cultures and discovering new flavors. Follow her on Instagram for tons of delicious recipe inspo!
What's a soufflé?
A soufflé is a beautiful egg-based dish originating in France. Created with whipped egg whites, soufflés are deliciously light and puffy, making them the perfect dessert after a big holiday meal. Baked in small ramekins, soufflés come out of the oven already prepared in perfect serving sizes, making them extra convenient for hosting.
Made with Raaka Chocolate 
Raaka makes amazing high-quality chocolates with transparently traded, sustainably sourced cacao from local growers in Peru, Uganda, Tanzania, and the Dominican Republic. 
Using Willa's for baking
Oat milk can be used in place of dairy milk in most baking recipes one for one. Willa's Oat Milk is exceptionally rich and creamy because of our unique whole-oat approach, making its consistency and texture quite similar to dairy milk.

Baking with Willa's Oat Milk is also an easy way to add protein and minimal sugar to recipes. Learn more about using oat milk for dairy-free cooking and baking here!
Delicious on its own or topped with your favorites!
This Chocolate Soufflé recipe is fantastic served on its own, and also makes a great base for adding toppings! A dusting of powdered sugar, chocolate sauce, whipped cream, or strawberry preserves would all complement this recipe's incredible chocolatey flavor so well. And if you're feeling festive, sprinkle some crushed candy canes on top!
Follow Willa's on Instagram and TikTok for fun daily content and recipes!
Looking for more dairy-free desserts? Try our Chocolate Chai Pudding Pie, Boozy Mocha Oat Milkshake, and Cacao Caramel Apple Tart!
Browse our favorite winter oat milk cocktails and mocktails here.
For more creative dishes using Willa's Oat Milk, check out our recipes page. 
Want to learn more about Willa's? Browse our blog page for tons of information!
Shop Willa's Organic Oat Milk here.
Chocolate Soufflé
Ingredients
75g (~ ⅓ c) Willa's Oat Milk
½ tsp vanilla extract
70g (~ ¼ c + 2 ½ tbsp) Raaka Dark Chocolate, roughly chopped
1 egg yolk
1 egg white
5g (~ 2 tsp) tapioca starch
20g (~ 2 ¾ tbsp) powdered sugar
coconut oil or oil of choice to grease dishes
Instructions
In a saucepan, heat Willa's Oat Milk until it begins to bubble
Remove from heat and add Raaka dark chocolate and vanilla. Whisk until smooth.
Add egg yolk and mix well.
Sift in tapioca starch
In a separate bowl, whisk egg white, adding powdered sugar by the teaspoon until soft peaks form
Fold into the chocolate mixture and mix until combined (be gentle so you do not lose air)
Pour batter into greased ramekins, filling no more than ¾ full
Bake at 392° F for 12 minutes
Dust with powdered sugar and enjoy!