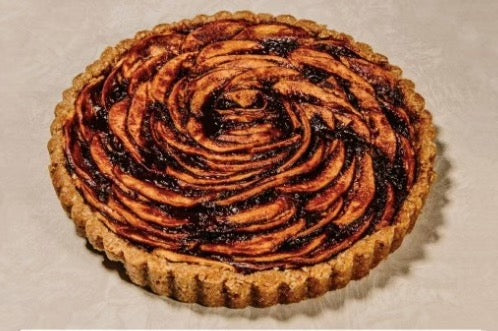 Prep Time
25M
Cook Time
65M
Servings
8 servings
Raaka Chocolate has created the, dare we say, perfect, Chocolate Caramel Apple Tart. It's a work of art and the combination of apples, caramel and Willa's Dark Chocolate is simply divine.
Vegan, dairy free and gluten free!

It can be hard to find amazing recipes when you're dairy free / vegan / gluten free, especially tarts and pies. The best news is this tart is dairy free, vegan and made without any gluten ingredients. You won't be able to get enough! 
For more info on gluten and Willa's, check out our FAQs here. 
Why do we love Raaka Chocolate so much?
Of course we love Raaka because of their unroasted cacao's unbeatable flavor, but there's much more to it than that. Raaka prioritizes their relationship with the suppliers and fair wages. They value "transparent trade," which means that they know where their cacao is coming from and they ensure that those working for the suppliers are being fairly compensated. Check out their website or instagram to learn more.
Follow Raaka Chocolate on Instagram to find the perfect fix to satisfy your sweet tooth!
For more Thanksgiving table toppers, check out our Willa's Dairy-Free Oat Milk Pumpkin Pie and this Pumpkin Oat Milk Nice Cream.
To learn more about Willa's, our sustainability, organic oats, and more, visit our blog page.
Order Willa's NEW Dark Chocolate Oat Milk with transparently traded
Raaka Chocolate
here
!
Cacao Caramel Apple Tart
Ingredients
1 ½ cup rolled oats
7 tbsp. vegan butter
1 tbsp. maple syrup
⅜ tsp. salt
2 apples, peeled (we use granny smith!)
1 tbsp. apple cider vinegar
3 tbsp. tapioca flour
½ cup Willa's Dark Chocolate Oat Milk
½ cup maple sugar
Optional: 1 Raaka Oat Milk Bar
Instructions
1. Preheat oven to 350 degrees. In a food processor, blend all tart crust ingredients until oats break down, butter incorporates and dough clumps form.
2. Press evenly into an 8 inch tart pan, forming dough up sides of tin and smoothing over any holes. Bake for 10 minutes, remove and let cool slightly while completing steps.
3. While crust is baking, slice apples into crescents, very thinly, and toss in a mixing bowl with vinegar and tapioca flour, evenly coating. Let sit.
4. Create caramel sauce by combing the oat milk, maple syrup, butter and salt in sauce pan over medium heat until butter melts. Let simmer for 5 minutes.
5. Whisk tapioca flour into caramel sauce and let simmer for 10 minutes to thicken, whisking periodically so it doesn't clump or burn to bottom of pan. Once finished, remove from heat.
6. Assemble apples into tart crust. We created a circular pattern with a rose center by layering them starting at the outer edge and spiraling towards the center. Pack them tightly as they will soften and shrink as they bake. Get creative with your apple pattern!
7. Drizzle caramel sauce over apples, making sure to evenly coat the apples and push caramel sauce into all the cracks. Any uncoated apples will dry out while baking
8. Bake in over for 40 minutes, rotating pan after 20 minutes.
9. Remove from oven and let cool before slicing and serving.
10. (Optional Step) Shave a bit of Oat Milk chocolate bar on top to garnish!