Vegan Baked Apple Cider-Pumpkin Spice Donuts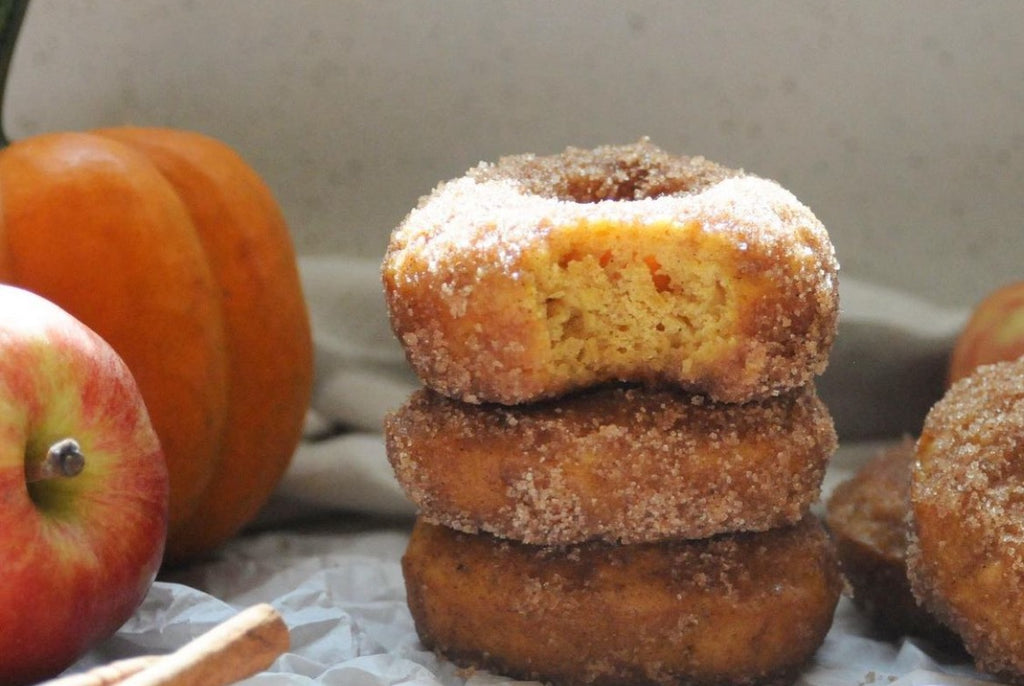 Prep Time
10M
Cook Time
10M
Servings
12 servings
There's nothing that says fall more than apple cider! One of our favorite Instagram friends, Food Allergy Moms created these delicious Vegan Baked Apple Cider-Pumpkin Spice Donuts! This is the perfect recipe to use when hosting. The serving makes 12 donuts and it only takes about 20 minutes. Your guests will be begging for more!
Donuts made with fall spices and pumpkin puree!
We love how Sarah uses real, honest ingredients in her recipes. This one highlights our favorite fall flavors with cinnamon, nutmeg, organic pumpkin puree and apple cider. Additionally, Sarah loves to use Willa's Oat Milk, to create extra fluffy dairy free baked goods. Willa's Barista Oat Milk is an all around champ when it comes to creating airy muffins, bread, donuts and cake without dairy!
Follow Sarah on Instagram to find more delicious, allergy friendly recipes!
For more fall desert recipes, check out these Hearty Banana Nut Muffins and this Pumpkin Oat Milk Nice Cream.
To learn more about Willa's, our sustainability, organic oats, and more, visit our blog page.
Pre-order our NEW Dark Chocolate Oat Milk with transparently traded
Raaka Chocolate
here
!
Vegan Baked Apple Cider-Pumpkin Spice Donuts
Ingredients
1 ½ cup all purpose white or whole wheat pastry flour
¼ cup organic cane sugar
¼ cup packed vegan light brown sugar
2 tsp. baking powder
¾ tsp. salt
1 ½ tsp. cinnamon
¼ + ⅛ tsp. freshly grated whole nutmeg
½ cup fresh apple cider
¼ cup Willa's Oat Milk
¼ cup canned pumpkin
2 tbsp. melted vegan butter
For topping:
¾ cup + 2 tbsp. organic cane sugar
2 ¼ tsp. cinnamon
⅛ tsp. freshly grated whole nutmeg
4-5 tbsp. melted vegan butter
Instructions
1. Preheat oven to 350 degrees. Spray 2 donut pans with nonstick spray; set aside.
2. In large bowl, whisk to combine flour, sugars, baking powder, salt, cinnamon, and nutmeg.
3. Add the apple cider, oat milk, pumpkin, and melted butter; stir to combine.
4. Evenly spoon batter into prepared donut pans, filling to about 3/4 full.
5. Bake on middle oven rack for 8-11 minutes, or until donuts spring back when gently pressed.
6. Cool in pan. Meanwhile, in shallow bowl combine sugar, cinnamon, and nutmeg. In a separate shallow bowl, add melted vegan butter.
7. Remove donuts from pans. Dip each donut in melted butter; letting excess butter drip back into bowl. Coat each donut in spiced sugar mixture, flipping donut several times until fully coated. Set on wire rack or plate. Serve immediately or store in single layer in airtight container at room temperature for up to 2 days.