Pumpkin Spice French Toast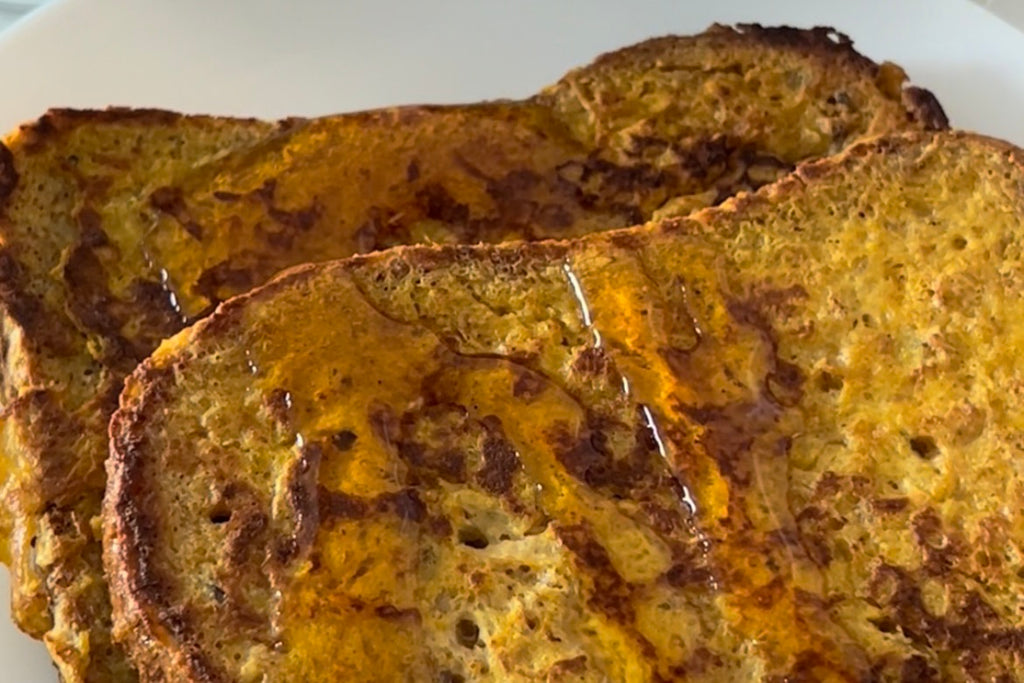 Prep Time
5M
Cook Time
5M
Servings
single serving
Pumpkin Spice French Toast
As the leaves change and the air gets crisper, there's an undeniable allure in creating dishes that embrace Fall produce and spices. It's a time when we eagerly pull out our favorite soup pots, dust off our pie pans, and prepare to be enchanted by the earthy notes of pumpkin, the tart sweetness of apples, and the warmth of spices like cinnamon and nutmeg.

Fall vibes don't have to be basic!
Fall recipes aren't just about the food; they're about the experience—the aroma that fills the kitchen, the joy of gathering with loved ones, and the shared delight in savoring dishes that evoke memories and create new ones. It's the season that beckons us to slow down, to simmer soups and stews, and to bake pies that warm our hearts and nourish our souls. There's something truly magical about fall recipes—it's the taste of the season, served on a plate with a side of love and togetherness.

We love anything that includes real aromatic fall spices like turmeric, ginger, cloves and black pepper. 

Nothing artificial. Pumpkin Spices - with REAL pumpkin. And aromatic spices.
As the leaves change their hues and the air turns crisp, we find ourselves longing for the comforting flavors of fall. Love it or call it basic, one flavor that encapsulates the essence of autumn is pumpkin spice.


What we don't love are 'pumpkin spice' flavored processed foods made of mostly artificial ingredients and flavors rather than actual pumpkin and spices. 
The good news is it's easy to make your own pumpkin spice anything with real pumpkin and spices in your pantry!

This blend of aromatic spices—cinnamon, nutmeg, ginger, and cloves—combined with the natural sweetness of real pumpkin - will make anyone in your family a pumpkin spice fan. And it will show any family members who are used to the artificial stuff how good the real thing can be!
Wholesome plant based ingredients. 
Not only is this dish comforting and full of flavor, it is also better for you! It uses all whole ingredients and a natural sweetener from the maple syrup, which has a lower glycemic index for less sugar spike and crash. Make sure you buy the real thing! Not a maple syrup that has corn syrup added.

The pumpkin puree mixes beautifully in the mixture and it truly is the perfect fall breakfast. And feel free to get creative adding nuts or cranberries. It would also be delicious topped with a pumpkin whipped cream. 

Not vegan, but you can make it vegan!
This recipe includes an egg. If you are vegan or avoiding eggs, feel free to use your favorite plant based egg replacement like JustEgg, applesauce, or a little bit of avocado or olive oil or aquafaba.

Looking for other pumpkinny recipes? Check out Willa's dairy free pumpkin pie, Willa's dairy free pumpkin creamer made with real pumpkin, Willa's Pumpkin Cold Foam.
Follow Willa's on Instagram and TikTok for fun daily content!
Pumpkin Spice French Toast
Ingredients
- 1 egg⁠
- 1 tbsp pumpkin puree
- 1/4 c Willa's Unsweetened Orginal Oat Milk⁠
- 1 tsp cinnamon⁠
- 2 pieces of bread of choice
- 1/2 tbsp butter
Instructions
1. Mix together the egg, pumpkin puree, oat milk, and cinnamon into a bowl⁠
2. Coat both sides of the bread into the mixture⁠
3. Put into a pan with butter⁠
4. Cook 1-2 minutes per side⁠
5. Top with topping of choice and enjoy⁠