Mixed Berry Galette (Dairy-Free)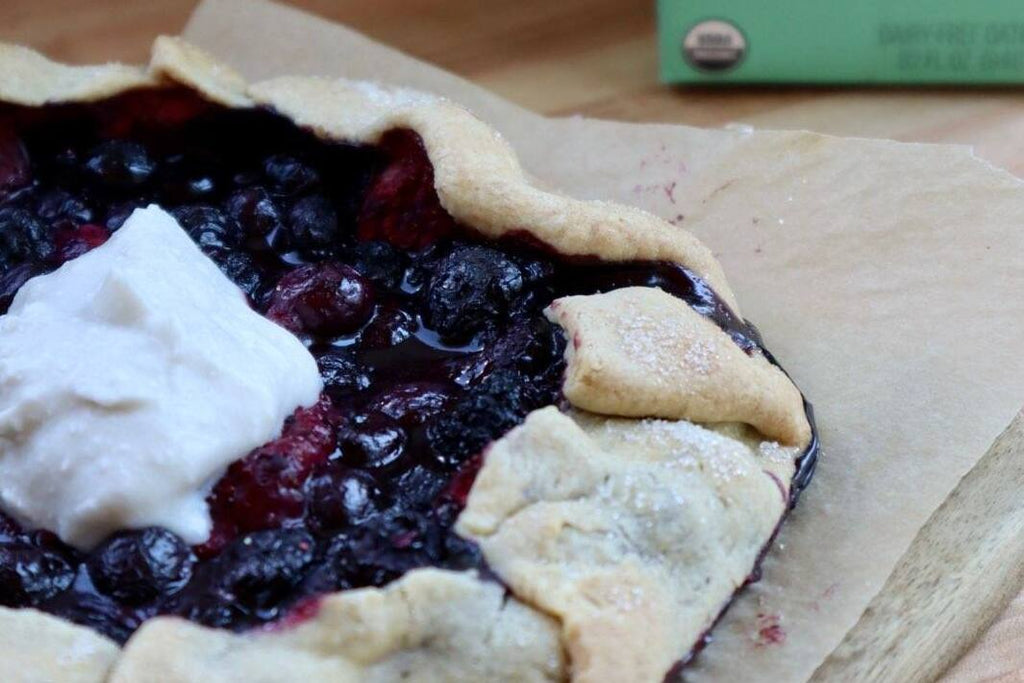 Prep Time
15M
Cook Time
30M
Servings
1 galette
Summer is short, so we're always looking for ways to take advantage of in-season fruits while we can! This Mixed Berry Galette with Willa's is such a fun, show-stopper of a pastry and shockingly simple. It is sure to be a summer crowd pleaser!

What is a galette?
Galettes are a beloved French pastry with endless flavor possibilities. At its core, a galette is a pastry base with its edges folded over a filling for a beautiful pie-like treat. Although the pastry may look intimidating, it's actually incredibly easy to create and much more fool-proof than a homemade pie crust! We love how a galette is meant to have a somewhat rustic look, so you can be carefree when folding over the dough as it does not need to look perfect.

Galettes can be filled with almost anything from savory to sweet ingredients. This makes it a great pastry to experiment with as it can be used for anything from an appetizer to a meal to a dessert! We went the sweet route with this recipe for a delicious summer dessert filled with flavor.

Oat milk for dairy-free baking
Oat milk can be used in place of dairy milk in most baking recipes one for one. Willa's Oat Milk is exceptionally thick and creamy because of our unique whole-oat approach, making its consistency and texture quite similar to dairy milk.
Baking with Willa's Oat Milk is also an easy way to add protein and minimal sugar to recipes. Learn more about using oat milk for dairy-free cooking and baking here!

Delicious homemade galette crust
A gallete pastry is much easier to get right than any homemade pie crust. This recipe calls for a homemade pastry dough inspired by Christine at Home's recipe. Scratch-made dough can sound complicated, but we promise this recipe is super simple. Just combine the mixed dry and wet ingredients, knead it into a ball, and roll it out for a delicious, perfectly crispy crust.

If you don't feel like home-making your dough, storebought puff pastry or pie dough will work as well!

Dress it up with dairy-free whipped topping or plant based ice cream
This dessert is incredible on its own, but tastes even better with a scoop of your favorite vegan ice cream or whipped cream! To make your own dairy-free whipped cream, just add a chilled can of full-fat coconut milk, a teaspoon of vanilla extract, and a tablespoon of maple syrup to a bowl and whip until thick and creamy.
Follow Willa's on Instagram and TikTok for fun daily content!
Want to try more dairy-free baking? Check out these delicious recipes: Dairy-Free Vanilla Cupcakes, Oatmeal Raisin Cookies, Cacao Caramel Apple Tarte
For more creative dishes using Willa's Oat Milk, check out our recipes page. 
Want to learn more about Willa's? Browse our blog page for tons of information!
Shop Willa's Organic Oat Milk here.
Mixed Berry Galette (Dairy-Free)
Ingredients
Mixed Berry Filling:
- 2 cups mixed berries
- 2 tsp lemon juice
- 1 tbsp cornstarch
- 1.5 tbsp maple syrup
Pastry Dough:
- ¾ cup all purpose flour
- ⅛ tsp salt
- ⅛ cup coconut oil softened
- ½ tbsp maple syrup
- 3 tbsp Willa's Oat Milk
- ½ tbsp cane sugar
Instructions
1. Preheat the oven to 375 degrees F.
2. In a medium bowl, whisk together flour and salt. Add coconut oil, Willa's Oat Milk and maple syrup. Use a fork to combine and then knead into a ball,
3. On a floured surface, roll dough into a ¼ inch thick circle.
4. Put on a lined baking sheet.
5. In another bowl, mix together berries, lemon juice, cornstarch, and maple syrup.
6. Add filling to the middle of pie crust and fold the edges over.
7. Bake for 25 - 30 minutes until golden. Enjoy with coconut cream or vanilla ice cream