Dairy-Free Pumpkin Cold Foam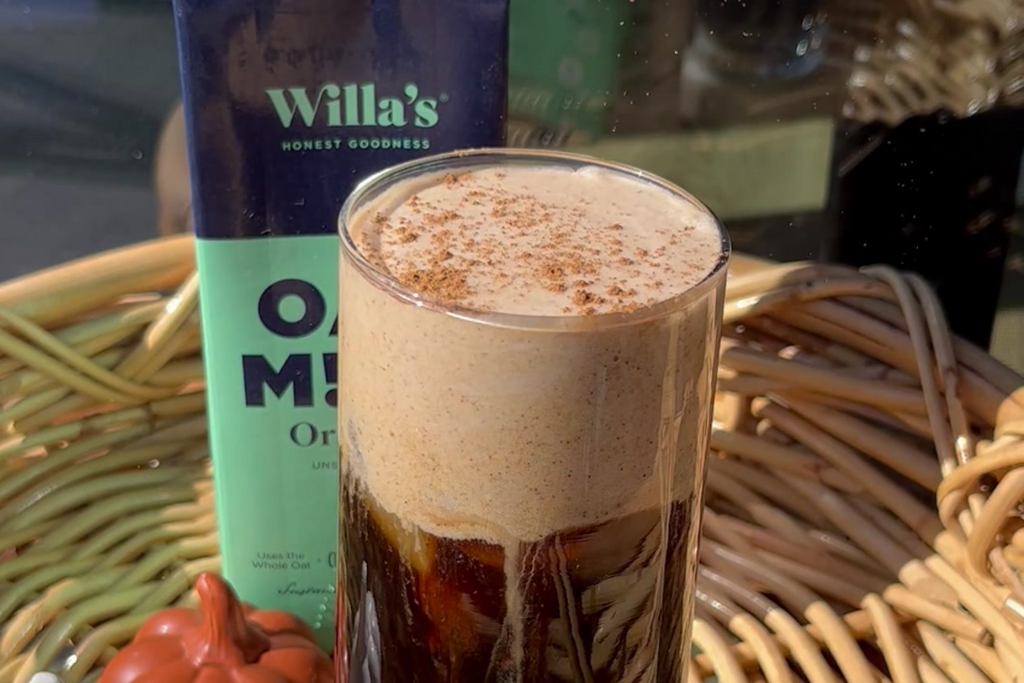 Prep Time
5M
Cook Time
0M
Servings
1 serving
Indulge in the rich and cozy flavors of fall with our Dairy-Free Pumpkin Cold Foam recipe! This delightful recipe combines the creamy goodness of Willa's Barista Oat Milk with the warm flavors of pumpkin, cinnamon, and vanilla. It's a perfect companion for your cold brew or iced latte, offering a luxurious, dairy-free twist on a popular coffee house treat. Think of it like a dairy-free pumpkin whipped cream to add on top of your favorite drinks!
Real Ingredients
With fall in full swing, we are taking advantage of all the cozy pumpkin spice recipes we can. Our recipes hero real pumpkin puree because nothing beats the flavor of the actual ingredient itself!
At Willa's, we pride ourselves on using wholesome, organic ingredients like the whole oat, real vanilla extract, and sea salt. The same is true for our recipes! Why use artificial pumpkin flavoring when the real thing is so delicious?
Customizable 
This recipe is highly customizable. You can adjust the sweetness, spice level, and thickness of the foam to suit your personal preferences. Experiment with different quantities to find your perfect balance. If you get creative with your pumpkin cold foam, share it with us on Instagram and TikTok!
Creamy, frothy, dairy-free goodness
Believe it or not, you can get a great froth at home without dairy and without any heat! With Willa's unique whole oat approach, our oat milk has an extra rich and creamy texture. Willa's was designed specifically for coffee, so it's able to froth beautifully! Learn more about our Barista Oat Milk formulation here!
To get the perfect cold foam consistency, be sure to refrigerate your Willa's Oat Milk before use. When whipping up the ingredients to get a froth, the faster the better! We recommend using a hand frother or one beater in a handheld mixer for the fastest (and easiest) results.
Quick and easy
The preparation of this cold foam is quick and straightforward. With just five simple ingredients and three easy steps, you can create a frothy masterpiece in minutes, saving you time while still having a gourmet coffee experience. Cheers, friends! 
If you're in the mood for more pumpkin, try our Almond and Oat Pumpkin Bread and Pumpkin Spice Oat Milk Creamer recipes.
For more fall recipes, check out our Healthy Fall Breakfast Muffins or Banana Bread Latte.
Don't miss out on our dairy-free dessert recipes like Oat Milk Chocolate Pudding and Coconut Buttercream Cupcakes.
For more dairy-free recipes, everything from coffee to cocktails to desserts, check out our recipes page.
To learn more about Willa's Oat Milk and everything from nutrition to oat milk tips, take a look at our blog.
Interested in sustainability? Learn more about how we make our oat milk with a zero-waste process.
Dairy-Free Pumpkin Cold Foam
Ingredients
- 1/4 c Willa's Barista Oat Milk
- 1 tsp maple syrup
- 1/2 tsp cinnamon
- 1/2 tsp vanilla extract
- 1 tbsp pumpkin purée
Instructions
1. place all ingredients in a glass
2. whisk vigorously until it reaches a frothy consistency (we recommend using a hand frother or electric mixer for speed!)
3. pour over your iced coffee and enjoy!