Dairy-Free Spinach Artichoke Dip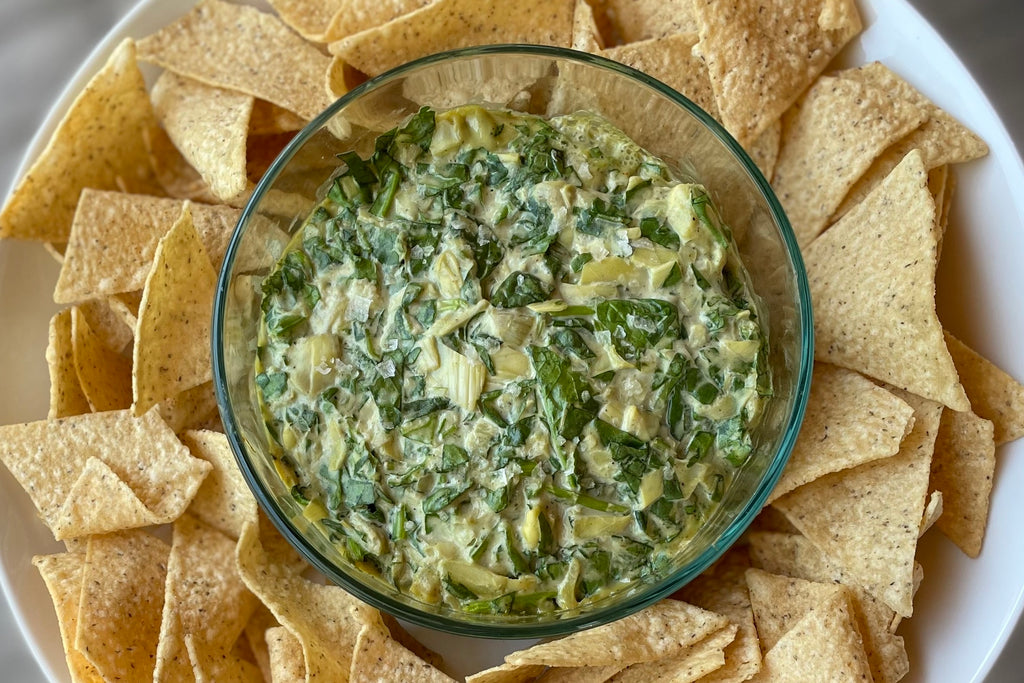 Prep Time
10M
Cook Time
15M
Servings
6 servings
Football season is in full swing, which means we're always looking for new game day appetizers! Our friend Kate Daugherty from The Facility Denver created this delicious dairy-free Spinach Artichoke Dip with Willa's Unsweetened Original. This dip is an easy and nutritious twist on the classic, with all the creamy, rich flavor, and a guaranteed crowd-pleaser!
Kate is the Head Lifestyle Nutritionist at The Facility and has a blog with delicious, versatile recipes and tons of information on health and wellness. The Facility Denver specializes in functional health and offers a variety of services including chiropractic care, massage therapy, mindfulness training, and mental health therapy, some of which are available for telehealth appointments. Check out Kate's post on why she loves Willa's!
We promise you won't miss the dairy
The cashews and nutritional yeast in this dip mimic a cheesy base. Kate even "tested it out on unsuspecting volunteers at a potluck, and they didn't even notice that it was missing the cream cheese, sour cream, and mayonnaise that typically makes up a Spinach Artichoke Dip."
Spinach and artichokes are super rich in essential vitamins and natural fiber as is Willa's with our whole grain oat formula. Cashews are also a healthy source of fats and protein. So not only is this dip indulgently delicious, but it's also full of nutrient-rich ingredients!
Serve it with anything and everything
Spinach Artichoke Dip pairs perfectly with tortilla chips, pita or naan bread, toasted bread chunks, or fresh veggies like carrots, celery, cucumbers, and cauliflower. If you want to make it a meal, Kate recommends using some to top off your baked chicken!
Follow Kate on Instagram and check out her website for more incredible recipes and nutrition and wellness tips!
For more game day recipes, check out this Vegan Baked Mac 'n' Cheese and these Oat Milk BBQ Chicken Wings.
To learn more about Willa's, our sustainability, organic oats, and more, visit our blog page.
Pre-order our NEW Dark Chocolate Oat Milk with transparently traded Raaka Chocolate here!
Dairy-Free Spinach Artichoke Dip
Ingredients
½ cup raw, unsalted cashews
½ cup Willa's Unsweetened Original Oat Milk
1 tsp apple cider vinegar
1 ¼ tbsp nutritional yeast
½ tsp garlic powder
Salt and pepper to taste
1 ½ cup artichoke hearts (drained and chopped)
3 cups baby spinach (finely chopped)
Instructions
1. Preheat the oven to 400F.
2. Line a baking dish with parchment paper.
3. Soak the cashews in hot water for 10 minutes, then drain.
4. Add the cashews, Willa's Oat Milk, apple cider vinegar, nutritional yeast, garlic powder, salt, and pepper to a blender or food processor. Blend until smooth. Taste and adjust seasoning as needed.
5. Arrange the baby spinach and artichoke hearts in the baking dish. Pour the cashew mixture over top and stir until well combined. Cover with foil and bake for 15 to 20 minutes, removing the foil halfway through.
6. Remove from oven, let cool, and enjoy!