Brownie Banana Bread with Willa's & Renewal Mill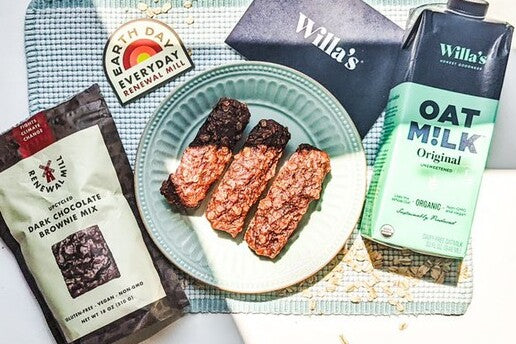 Prep Time
10M
Cook Time
20M
Servings
1 loaf
This Brownie Banana Bread is so delicious… and it tastes even better when you find out it's made with two fellow climate-positive brands helping to fight food waste and reverse climate change! 
Climate-positive, upcycled, and zero waste
If you haven't tried Renewal Mill yet, you need to check them out! They take byproduct ingredients that would have been wasted from food manufacturing and upcycle them to make delicious, high-quality plant-based pantry staples.⁠
One of the ingredients Renewal Mill upcycles is oat pulp from other oat milk brands that, unlike Willa's, do not use the whole oat. ⁠We prefer to avoid any part of the oat being wasted in the first place, but knowing we can't solve all the world's problems (yet!), we're glad Renewal Mill is finding a delicious new use for wasted oat pulp!
At Willa's, we use the whole entire whole grain oat. Nothing good is wasted. Plus, the whole oat gives Willa's a super rich and creamy texture that is perfect for baking.
Only ⁠5 ingredients and full of flavor
There's nothing we love more than a recipe that only calls for a handful of ingredients. Renewal Mill's Upcycled Dark Chocolate Brownie Mix provides the perfect base for this recipe with its rich chocolate flavor. The best part is, Renewal Mill's upcycled mixes use super simple ingredients you can recognize, just like Willa's. The brownie mix plus Willa's Whole Oat Milk, rolled oats, bananas, and (optional) walnuts make for the perfect slice of sweet, nutty flavor.
A breakfast bite to keep you going
Full of delicious nutrients, this recipe is a great option for breakfast or an afternoon pick-me-up snack to keep your body fueled. The rolled oats and Willa's Oat Milk are packed with protein and fiber, the banana is a great source of vitamins and minerals, and the walnuts bring an additional boost of protein and polyunsaturated fats.
Use code "NOTHINGWASTED" for 20% off renewalmill.com and willaskitchen.com! 💙⁠
Follow Willa's on Instagram and TikTok for fun daily content!
Find out more about Renewal Mill's upcycling process here.
Learn about Willa's whole oat process here.
Loving the banana bread? Check out our Banana Bread Baked Oats and Banana Bread Latte.
For more creative dishes using Willa's Oat Milk, check out our recipes page. 
Want to learn more about Willa's? Browse our blog page for tons of information!
Shop Willa's Organic Oat Milk
here
.
Brownie Banana Bread with Willa's & Renewal Mill
Ingredients
- 1 cup rolled oats⁠
- 1 cup Renewal Mill Upcycled Brownie Mix⁠
- 2 ripe bananas, mashed⁠
- 1 cup Willa's Oat Milk⁠
- 1/3 cup walnuts, chopped (optional)⁠
Instructions
1. Preheat oven to 350 degrees F and grease a mini loaf pan.⁠
2. In a medium bowl, combine the oats and brownie mix.⁠
3. In a small bowl, mix together the bananas and oat milk.⁠
4. Add the banana milk mixture to the dry ingredients and mix thoroughly.⁠
5. Stir in walnuts if using.⁠
6. Scoop into loaf pan.⁠
7. Bake in preheated oven for 20-25 minutes (until a toothpick comes out clean from one of the mini loaves).⁠
8. Allow loaves to cool in pan then pop out to serve.⁠
9. Enjoy! These are great for breakfast or a mid-afternoon snack with a pick-me-up coffee.⁠