Banana Peanut Butter Oat Milk Overnight Oats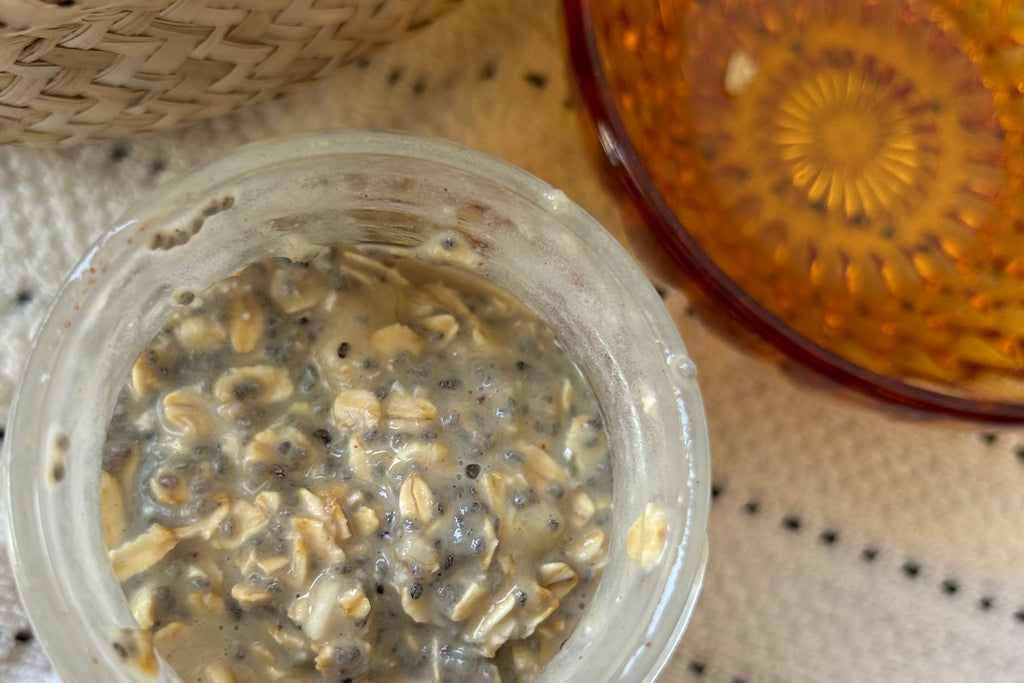 Prep Time
5M
Cook Time
12H
Servings
1 servings
Overnight oats are the ultimate healthy, wholesome, plant based breakfast hack.


There's nothing better than a breakfast of overnight oats to pop out of the fridge and eat on the go! Overnight oats are easily meal prepped the day before and the best part is you can make them for the entire week! 
We love adding chia seeds for extra fiber, protein and plant based omega 3s (great for your brain and start to the day). If you're having any er…digestive issues. Oats and chia seeds are a digestive super combination. They're a frequent recommendation for anyone with gut health or IBS issues. If you've tried chia puddings you know they are the ultimate plant based ingredient to get things…moving. And oats support gut health with their prebiotic fiber.
Organic oats are a breakfast superfood.
At Willa's, you know we're fans of organic oats. Oats are rich in vitamins, beta glucans, minerals, and antioxidants, prebiotic fiber and plant based protein. Overnight oats provide a delicious, nutritious, and hassle-free breakfast option that can easily fit into a busy lifestyle.

Childhood nostalgia with wholesome ingredients.
We grew up with bananas and peanut butter and this recipe brings back so many memories!

You can always add other fruits or chocolate…
You can also switch it up with other fruits, cacao powder or using Willa's Chocolate Oat Milk to give a chocolate peanut butter vibe similar to muddy buddies - only wholesome and healthier!

Basically think about the flavors in your favorite peanut buttery treats, or PB & J combo and pop them into this recipe! You can't go wrong. We love the idea of adding blueberries, cacao, raspberries, pumpkin seeds or even taheni! 
Peanut butter allergy? No problem.
Yes, you can definitely make htis recipe without the peanut butter! Add a teaspoon of taheni instead or skip nuts all together! 
The best part about overnight oats and chia puddings is that you can literally add any of your favorite ingredients and create an entirely new breakfast. 
Oat milk takes overnight oats up a notch. 
Have you ever made overnight oats that were chewy, watery or grainy? You just haven't gotten the ratio and liquid right. 
This recipe uses Willa's Organic Oat Milk which uses the whole oat (rather than just oat sugar). It gives the oats a richer more flavorful taste. Plus Willa's has less sugar and all of the oats' protein and prebiotic fiber. 
For a richer, more chocolatey flavor, substitute Willa's Raaka Chocolate Oat Milk!
Check out the recipe for these Peanut Butter Banana Overnight Oats below! 
For more easy breakfasts check out our Blueberry Chia Pudding, Banana Chia Oat Milk and Protein Bowl, and Green Smoothie Bowl.    
Follow Willa's on Instagram and TikTok for fun daily content!
For more creative dishes using Willa's Oat Milk, check out our recipes page. 
Want to learn more about Willa's? Browse our blog page for tons of information!
Shop Willa's Organic Oat Milk
here
.
Banana Peanut Butter Oat Milk Overnight Oats
Ingredients
- 4 tbsp oats⁠
- 1 tbsp chia seeds⁠
- 1 tbsp peanut butter⁠
- 1/2 tbsp maple syrup⁠
- 1/2 banana
- 1/3 c Willa's Unsweetened Original Oat Milk⁠
- 1/2 tsp cinnamon
Instructions
1. Combine everything in a bowl
2. Roughly mash banana⁠
3. Put lid on and shake⁠
4. Put in fridge
Enjoy!